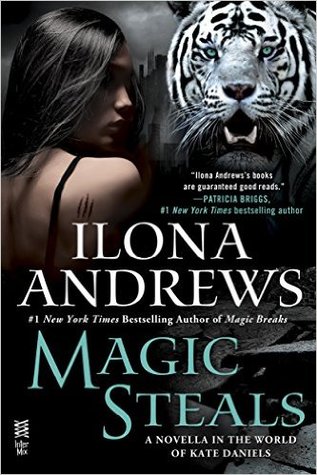 Series: Kate Daniels Series 4.5 & 6.5
Genre: Paranormal Romance
Age Group: Adult
Ebooks
Published: 2012/2016
MD Rating: 4/5
MS Rating: 4.5/5
Alpha Pack leader Jim Shrapshire has always been the strong, silent type. But something has come over him--a magic force currently residing in one of the Pack's headquarters. Were-tigress Dali Harimau has always wished she could get Jim's attention--but now he needs her help.
Stricken with a magic-sickness, Jim needs Dali's flair for magic. And to save him, she must challenge a powerful, dark being to a battle of wits.

These are two very fun novellas that I picked up because I need Andrews' writing in my life and I need a taste of the Kate Daniels world while I wait for Magic Triumphs. Dali is quite the opposite of Kate in many ways and it was really interesting to see the world from a different perspective.
Dali's magic is another awesome element to these stories and her self-depreciating humor really amused me. Not only is she funny, she doesn't take any crap either. She knows her magic, even if it doesn't always work for her, and she doesn't let anyone tell her otherwise. Even so, she has her human moments, like when her mom embarrasses her or she worries Jim doesn't like her, which made me love her even more.
Can we have more Jim and Dali screen time? These two are fantastic and a little less toxic than Kate and Curran. (and by a little I mean they aren't toxic at all) I loved their slow burn romance and I want to see more of their adventures together.