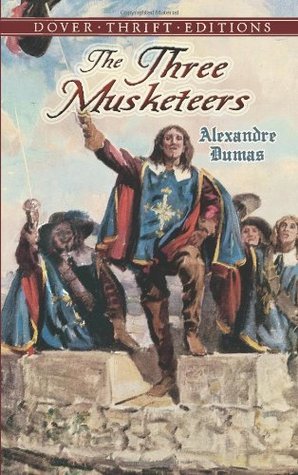 Series: The D'Artagnan Romances #1
Genre: Historical Fiction
Age Group: Adults
Audiobook- 22hr 45 mins
Dover Publications - 560pgs
Rating: 3/5
With its rousing cry of "One for all, and all for one," Alexandre Dumas's thrilling adventure novel has captivated generations of readers since its initial publication in 1844. Action, intrigue, and romance abound in this swashbuckling epic, which traces a country lad's path to the French court of the early 1600s and the glorious fraternity of the king's men, the Musketeers.
A son of impoverished nobility, D'Artagnan arrives in Paris to find the Musketeers disbanded by the cunning Cardinal Richelieu, who hopes to seize power from the weak-willed Louis XIII. The daring and ambitious youth proves his mettle in the company of the famous Musketeers — Porthos, Athos, and Aramis — and joins them in a heroic struggle to defend the king and his lovely queen, Anne of Austria.

So often, I am not patient enough for classics. The language is different than what I am used to and the action takes a lot longer than a lot of modern books. In the end it is me that is the problem and not the book. Though my experience with Three Musketeer movies did not prepare me for this book, I did find some of the plot lines very interesting.
There are actually four main characters in this story and their antics are amusing. All four of them have a strong bromance even though some of their actions would not be considered heroic. Through the book we follow a series of plots that are somewhat interconnected and each new thread picked up just as the last one was losing my interest. The audiobook definitely helped me get through this book and still enjoy it.
However, Dumas meanders in many different directions throughout the story and a lot of our "heroes" actions are rather selfish and immoral. I wasn't exactly impressed since my impressions as a child put the Musketeers on the same level with Robin Hood. Overall, I think the book could have been trimmed down a bit by being less repetitive and more concise, but the action and adventure was fun to read.I enjoyed some of the plot lines, but I was annoyed that women were either in need of saving or were villains. All the things that annoyed me about this novel were combined when we spent four or five chapters following a women's every move in a jail cell.