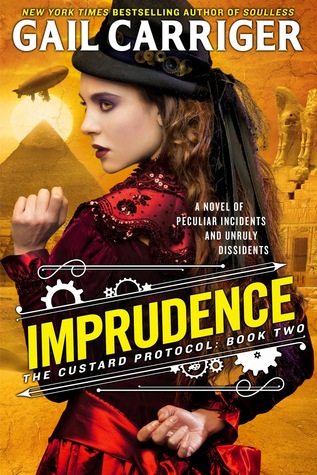 Series: Custard Protocol #2
Genre: Historical Urban Fantasy
Age Group: YA
Paperback - 357pgs
Source: Purchased
Published - Orbit (2017)
Add it // Buy it
Rue and the crew of the Spotted Custard return from India with revelations that shake the foundations of England's scientific community. Queen Victoria is not amused, the vampires are tetchy, and something is wrong with the local werewolf pack. To top it all off, Rue's best friend Primrose keeps getting engaged to the most unacceptable military types.
Rue has family problems as well. Her vampire father is angry, her werewolf father is crazy, and her obstreperous mother is both. Worst of all, Rue's beginning to suspect what they really are... is frightened.
Prudence was a wonderful addition to the Parasolverse and she is braver and bolder in this second book. Overall, this group of characters is well balanced with a lot of fun personalities. While the book reminds me of a Victorian coming of age novel in many ways, it has so many supernatural elements woven in that it is an absolute romp to read. Prudence and her crew find new friends and enemies as they take The Spotted Custard to Egypt.
Once again Carriger created a fun quirky storyline that expands the world she's created and I loved seeing even more of Carriger's take on the Victorian world. The beginning of this book really pulled on my heartstrings and makes me believe even more strongly that you need to read the Parasole Protectorate books first. The emotional impact will be so much greater if you have the background to what is happening.
But overall this series is full of all my favorite things: flirts, fun and supernaturals. Gail Carriger always seems to hit all the right buttons for me.