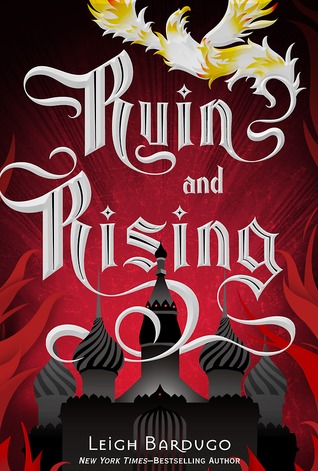 Series: Grisha #3 (Final)
Genre: Fantasy
Hardcover - 422 pgs (June 2014)
Source: Purchased
Add it // Buy it
Rating - 4/5
The Darkling rules Ravka from his shadow throne.
Now the nation's fate rests with a broken Sun Summoner, a disgraced tracker, and the shattered remnants of a once-great magical army.
Deep in an ancient network of tunnels and caverns, a weakened Alina must submit to the dubious protection of the Apparat and the zealots who worship her as a Saint. Yet her plans lie elsewhere, with the hunt for the elusive firebird and the hope that an outlaw prince still survives.
Alina will have to forge new alliances and put aside old rivalries as she and Mal race to find the last of Morozova's amplifiers. But as she begins to unravel the Darkling's secrets, she reveals a past that will forever alter her understanding of the bond they share and the power she wields. The firebird is the one thing that stands between Ravka and destruction—and claiming it could cost Alina the very future she's fighting for.
Two months after finishing this book I still don't know if I want to hug it or crush it. Maybe a little of both?
There were a lot of elements I loved about this book. We delve deeper into Alina's powers and her struggle with becoming darker as her powers continue to grow. Her relationship with the Darkling becomes even more complex. There is ever more information about what kind of darkness the Darkling controls. Plus the politics and court drama returns and there is some strong justice served to certain parties in this conclusion. All of these elements were fantastic and I was ready to put this series in the list of my favorites! I was enjoying all the elements. Alina's character arc was so strong and I was impressed with how far she had some since book one.
Then we came to the end of the book and the wheels came off. The ending wasn't bad. It was far from terrible. The writing was excellent and it wrapped up nicely. Everything was good, but I had expected spectacular. I expected so much more. When it came down to the finale I didn't believe it. I didn't believe Alina would make those choices and be happy.
Obviously, I am not going to agree with every author's choice. They make their decisions about the direction of the book and that will differ from what I think should happen sometimes. Most of the time it isn't a deal breaker for me in a book. This time it was for me! The choices Bardugo made at the end of this book made me feel like Alina regressed. It felt like all the character development and amazing things she did over the course of this book were just thrown to the side! Those final pages just really threw a wrench in how much I liked this entire series. However, this doesn't make me dislike the entire series and I will be checking out Bardugo's next series.
Happy Reading!