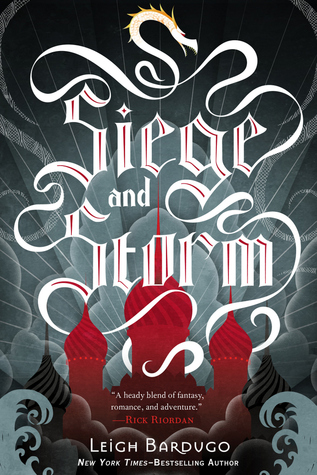 Series: Grisha Trilogy #2
Genre: Fantasy
Hardcover: 435 pgs
Published by Henry Holt and Co.
Source: Purchased
Add it // Buy it
Rating - 4/5
Darkness never dies.
Hunted across the True Sea, haunted by the lives she took on the Fold, Alina must try to make a life with Mal in an unfamiliar land. She finds starting new is not easy while keeping her identity as the Sun Summoner a secret. She can't outrun her past or her destiny for long.
The Darkling has emerged from the Shadow Fold with a terrifying new power and a dangerous plan that will test the very boundaries of the natural world. With the help of a notorious privateer, Alina returns to the country she abandoned, determined to fight the forces gathering against Ravka. But as her power grows, Alina slips deeper into the Darkling's game of forbidden magic, and farther away from Mal. Somehow, she will have to choose between her country, her power, and the love she always thought would guide her--or risk losing everything to the oncoming storm.
It seems like a lot of people have finished off this series recently. I heard Sam from Thoughts on Tomes raving about this series in one of her videos. Her glowing descriptions made me want to revisit this series and finally read the final two books!
I was a little hesitant because I read book one a couple of years ago. Even so, I thought I would remember enough to make it through. (TBH I should have at least read a review or something before picking this up. I couldn't remember who Alina's friends vs. enemies were and all I could remember about the Darkling was his actions at the end of the novel.) It took a little time for me to get my footing in the story, but Bardugo did a lovely job helping me remember what and who was important.
Because I have finished this series, I can say with confidence this is my favorite novel of the trilogy. There is a lot of plot and character development in this book that just blew me away! Alina is incredible throughout this book. Her growth from the start to the end of this book is a process which really impressed me. She is forced to change and adapts but with flaws and some resistance. She has awkward moments and struggles with new responsibilities which really pulled me into the story and made me root for her.
Plus we get new characters who are pirates! Pirates will win me over in almost any situation and these have a dashing charismatic leader! I liked how this installment really made progress in the overall story. Second books often feel like they are the low point, but this book really started to get into the meat of the story and didn't stall the action.
Personally, I was rooting for the new contender in the love triangle/square?/shape? I'm not convinced by Mal and less than interested in the Darkling's claim on her. So I loved there was a new option introduced. The social and political complications are also so well planned out. Bardugo did a great job keeping you informed of Alina's story and the bigger picture of Rivka's troubles.
When I finished this book, I was so glad I had book three to start immediately. There is a lot of suspense at the end of this book! I'll have a review of book three and my thoughts overall on this trilogy up soon.
My thoughts on the finale of this series will be up at the end of the week.
Happy Reading!!