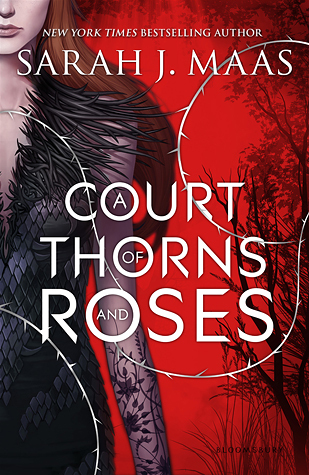 Series: A Court of Thorns and Roses #1
Genre: High Fantasy
Hardcover:
Source: Purchased
Add it // Buy it
Rating: 4.75
When nineteen-year-old huntress Feyre kills a wolf in the woods, a beast-like creature arrives to demand retribution for it. Dragged to a treacherous magical land she only knows about from legends, Feyre discovers that her captor is not an animal, but Tamlin—one of the lethal, immortal faeries who once ruled their world.

As she dwells on his estate, her feelings for Tamlin transform from icy hostility into a fiery passion that burns through every lie and warning she's been told about the beautiful, dangerous world of the Fae. But an ancient, wicked shadow grows over the faerie lands, and Feyre must find a way to stop it . . . or doom Tamlin—and his world—forever.
Look at me! I'm writing up a review within days of when I finished it! I wish I could find more books where I cannot contain my glee enough to write the reviews immediately. After finishing
Heir of Fire
last month, I was craving some more Sarah J. Maas writing. I jumped into this book wholeheartedly.
Overall, this is a stronger first book than
Throne of Glass
was. I wasn't sure if this was a series when I finished the book so the story was much more solid and complete. One of my favorite parts of Maas' books are the characters and of course these did not disappoint. There is a lot of grey area for all the characters (good, bad and indifferent). I liked how Maas used the immortality of the Fae to create even more complexity in her characters. Even the human characters had great depth and background characters grew and changed.
Maas does an incredible job interpreting the Beauty and the Beast tale. Her original storyline has an undercurrent of the original tale, but it is so easy to forget about it. In fact, I forgot about the curse element of the tale and was surprised by it. The retelling was even more unique because she adds fae into the mix! The combination of fae and fairy tale really worked out well.
I'd be very interested to see what the publisher classifies this book as. I think it is New Adult, but I think this will really surprise people who read New Adult often. There are quite a few sexy moments and a lot of violence within this story. Fae are not lighthearted, carefree or kind in this series. The topics are handled so well though and Maas' writing (while it was always great) is very mature in this book. I though Feyre's sexuality was handled so well and made her an even more powerful character. Her strength comes from many places and she is a fierce heroine. Plus her romance built in such a believable way that I was very captivated by it. (I was also fanning myself a few times because there are some steamy moments!)
My experience actually reading this book was different than I was expecting. I had some issues when Feyre first went to live in the Fae Kingdom regarding Feyre's relationship with Tamlin and Lucian. Things just seems a little too friendly. Also later on I thought the curse was a little too constructed even though I know phrasing and specifics are important to Fae lore. This was the only part of the book that pushed me out of the story. It made me really look at a few relationships as well. Overall those are small beans compared to how much I enjoyed this story.
I'm very happy with this initial book and cannot wait to see what is coming next. I'm curious if we will continue to follow the same characters or different ones as well. 2016 come faster!