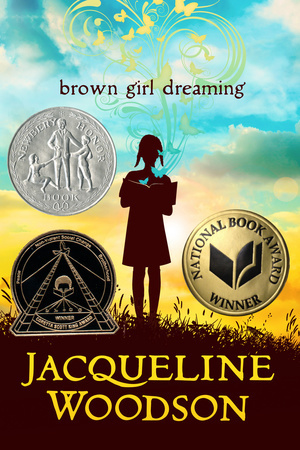 Series: Standalone
Genre: Memoir/Poetry
Source: Overdrive
Audiobook - 3hrs 55 min.
Penguin Audio - 2014
Add it // Buy it
Raised in South Carolina and New York, Woodson always felt halfway home in each place. In vivid poems, she shares what it was like to grow up as an African American in the 1960s and 1970s, living with the remnants of Jim Crow and her growing awareness of the Civil Rights movement. Touching and powerful, each poem is both accessible and emotionally charged, each line a glimpse into a child's soul as she searches for her place in the world. Woodson's eloquent poetry also reflects the joy of finding her voice through writing stories, despite the fact that she struggled with reading as a child. Her love of stories inspired her and stayed with her, creating the first sparks of the gifted writer she was to become.
Honestly, I have few words for this book beyond beautiful, eloquent and important. I want to push this into everyone's hands and I recommend the audiobook, read by the author, even more.
Woodson creates powerful imagery with beautiful prose. The memories she shares are vivid and candid. I could see Ohio, South Carolina and New York City. Throughout the book Woodson puts her own childhood into the context of the Civil Rights Movement and the 1960's. While the poems are snapshots of her childhood, the overall picture is clear and tells a beautiful story of her early life. I especially enjoyed the poems about Woodson's first inklings about wanting to write and tell stories.
I've never read anything like this before. The writing is lovely and I cannot say enough good things about it. There are many things to learn in each poem and take in overall. I continue to think about this book long after I finished the book.
Rating: 5/5