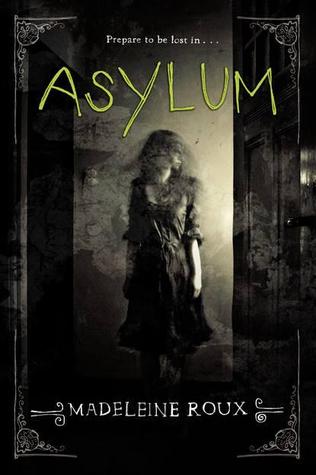 Purchase │Add
Paranormal/Horror -313 pgs
Published: August 2013 by Harper Teen
Asylum is a thrilling and creepy photo-novel perfect for fans of the New York Times bestseller Miss Peregrine's Home for Peculiar Children.
For sixteen-year-old Dan Crawford, New Hampshire College Prep is more than a summer program—it's a lifeline. An outcast at his high school, Dan is excited to finally make some friends in his last summer before college. But when he arrives at the program, Dan learns that his dorm for the summer used to be a sanatorium, more commonly known as an asylum. And not just any asylum—a last resort for the criminally insane.
As Dan and his new friends, Abby and Jordan, explore the hidden recesses of their creepy summer home, they soon discover it's no coincidence that the three of them ended up here. Because the asylum holds the key to a terrifying past. And there are some secrets that refuse to stay buried.
A trio of friends? Creepy Pictures? Flash backs? Former mental institution? Sign me up! When I say I like creepy things, I do mean creepy. Scary is not appealing to me, but creepy? Yes. I've never watched a legit horror movie, but I still like books like Anna Dressed in Blood and Miss Peregrine's Home for Peculiar Children. I was really interested in this book when it first came out, but like so many things, it ended up on the back burner. I recently picked it up at my local library and read during Bout of Books and the #AsylumReadAlong.
When I read Miss Peregrine's Home For Peculiar Children, I was disappointed in both the creep factor and the overall story. Miss Peregrine's was less creepy than I expected and the story wasn't as stellar as the hype led me to believe. Since Asylum was in the same vein with old mysterious pictures and bizarre premise, I was keeping my expectations low. The story is interesting and engaging, but was missing something to make it really stand out to me.
For most of the book I was under the impression this was a mystery/horror novel because of the description without any supernatural elements. About half way through I began to question if this was more of a paranormal story because some very supernatural things start to happen. To be honest, I'm not sure which category this fits into.
This book had me hooked though. There were lots of really creepy things going on and it was interesting delving into the history of the asylum. The mystery and investigation are well laid out too. It won me over even though I have a few problems with it. Dan is an easy character to like for me. He likes history (which is boy after my own heart) and is trying to puzzle the secrets out from the very beginning. There is a lot of creepy going on from page one and the fast pace makes the book fly by.
However, throughout the novel things come together a little too easily. The characters were all likeable, but seemed written without much depth. While I enjoyed the wrap up to the story, I'm still confused about what actually happened at the end of this book. Asylum is just over 300pgs and I would have liked a deeper explanation for some of the events and happenings. Overall I think the author could have taken more time to address wrapping up the story to make it clearer to the reader what exactly happened.
There is a sequel that is coming out very soon. It looks like
Sanctum
will be making its way onto my wishlist because I'm interested to see what happens next despite the problems I've mentioned. The cliffhanger at the end is very suspenseful. I am looking forward to where Dan and his friends end up!
Happy Reading