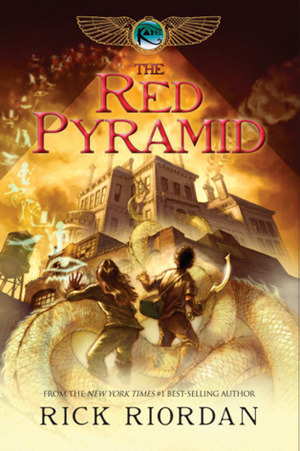 Series: The Kane Chronicles
Genre: Urban Fantasy
Rating: 4/5
Since their mother's death, Carter and Sadie have become near strangers. While Sadie has lived with her grandparents in London, her brother has traveled the world with their father, the brilliant Egyptologist, Dr. Julius Kane.
One night, Dr. Kane brings the siblings together for a "research experiment" at the British Museum, where he hopes to set things right for his family. Instead, he unleashes the Egyptian god Set, who banishes him to oblivion and forces the children to flee for their lives.
Soon, Sadie and Carter discover that the gods of Egypt are waking, and the worst of them —Set— has his sights on the Kanes. To stop him, the siblings embark on a dangerous journey across the globe - a quest that brings them ever closer to the truth about their family and their links to a secret order that has existed since the time of the pharaohs.
It has been a hot minute since I read a Rick Riordan book and I had a lot of fun reading this book. I listened to the audiobook and the narrators were absolutely fabulous. Overall this was exactly what I was looking for. It was filled with fun, adventure, and interesting mythology. Riordan writes young people and creates mythical gods like no other. He has a knack for writing compelling characters and plot lines that drag me into a story.
While the characters and the adventure style was much like Riordan's other books, there was a level of maturity I don't remember in Riordan's other series. Throughout the book there was more explanation of the Egyptian mythology which I appreciated since I am less familiar with it. The story is a straight up adventure that includes sibling rivalry that was hilarious.
My only issue with this story was it was a little predictable and had heavy foreshadowing that gave away a few plot points. Even so, since this is aimed at middle graders, I couldn't hold it against the book. The story is an emotional roller coaster and I'm anxious to get to the second audiobook.