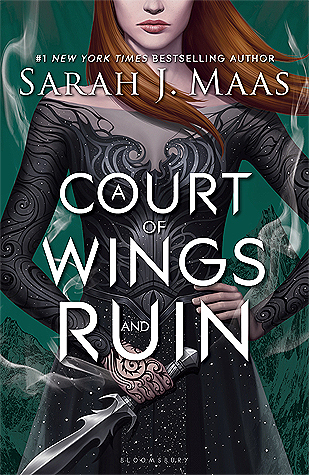 Series: A Court of Thorns and Roses #3 (Finale)
Bloomsbury USA - May 2016
A nightmare, I'd told Tamlin. I was the nightmare.
Feyre has returned to the Spring Court, determined to gather information on Tamlin's maneuverings and the invading king threatening to bring Prythian to its knees. But to do so she must play a deadly game of deceit—and one slip may spell doom not only for Feyre, but for her world as well. As war bears down upon them all, Feyre must decide who to trust amongst the dazzling and lethal High Lords—and hunt for allies in unexpected places.

I devoured the first 2/3 of this book. I like the interactions between the characters and thought the planning was complex and interesting. Even in this third book we learned a little bit more about the world. I enjoyed learning even more about Prythian and absorbing these details while the action continued. It wasn't always front and center but I liked that it was added.
However, the end felt like Maas tried to wrap up every loose end, redeem every character, and make it end perfectly. This kind of ending never feels realistic or satistfying to me so I was disappointed with where we left off. I wanted more answers about certain characters and clarification of some of the events. Everything was rushed from the half-way point and in the end most plot points were only addressed in overview.
Book two was very character focused, which I loved, and this book shifted the focus back to plot and action. While the overall arc of the story is important, I didn't care very much about this war. I was much more interested in the histories of the characters and their interactions with each other. (and if everyone survived what would happen next)The action parts of the book just didn't hold my attention as well. To put it simply: I wanted more banter, more friendship moments, and just more about everyone especially Rhy's Court of Dreams. They were the ones I wanted this book to be about. I was so devoted and attached to them after ACOMAF.
Overall Maas's writing doesn't impress me anymore. I've read much better writing since I started reading her books with more diversity, better character arcs and more interesting worlds. I do think this is the better series of the two she has going right now. ACOMAF remains my favorite book in the series and I will be interested to see what the "next" books in this series will be about.