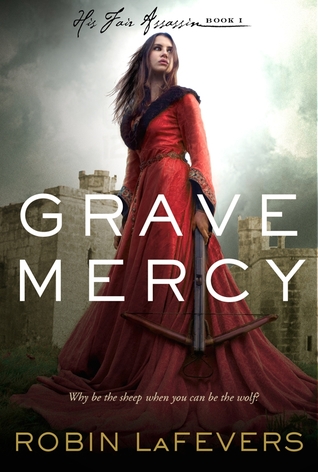 Genre: Historical Fiction
Published: April 2012 by Houghton Mifflin
Why be the sheep, when you can be the wolf?


Seventeen-year-old Ismae escapes from the brutality of an arranged marriage into the sanctuary of the convent of St. Mortain, where the sisters still serve the gods of old. Here she learns that the god of Death Himself has blessed her with dangerous gifts—and a violent destiny. If she chooses to stay at the convent, she will be trained as an assassin and serve as a handmaiden to Death. To claim her new life, she must destroy the lives of others.

Ismae's most important assignment takes her straight into the high court of Brittany—where she finds herself woefully under prepared—not only for the deadly games of intrigue and treason, but for the impossible choices she must make. For how can she deliver Death's vengeance upon a target who, against her will, has stolen her heart?
There are so many hauls and posts that contain this book, but I've seen very few reviews about it. Its possible I'm just traveling in the wrong circles, but I haven't seen a lot of buzz following this series. Either way I was drawn into this because of the promise of assassin nuns and a medieval setting.

At first I wasn't convinced by this story or Ismae for that matter, but she won me over in the end. With the word assassins involved, I was expecting the story to be a little more Throne of Glass-esque. This story is in a different vein though. Grave Mercy is much more historical fiction with well-built political drama centered around finding a traitor. While it wasn't what I was expecting, it was still very fun and I found myself reaching for it as often as possible.

The plot was slow to start, but things pick up later on and are very interesting. While Ismae is trained in fighting arts and more dramatic assassin skills, much of her time is actually spent using stealthy techniques which I really like. There isn't a lot of dramatic fighting scenes or sneaking off into the night for solo adventures. (I mean Ismae is an assassin so she does sneak off and do what she wants sometimes so look forward to that!) Even so, the hunt for a traitor is exciting and there are plenty of dangers both in life and love for Ismae.

The romance was one of my favorite parts of the book. A lot of YA have characters are instantly in love with one another. I really appreciated LaFever's approach the the romance in this book. First of all, she considered Ismae may have trouble forming trusting relationships with men because of the brutal abuse she has been subjected to. This felt really important to me as I was reading and an essential part of Ismae's character to explain. Secondly, even though the reader knows from the beginning, even from the description, these two characters will have romantic feelings towards one another, both characters are well-established before any romance happens between them. I loved both of them well before there was any romance involved.
To be honest the book could be a lot less than 550pgs if the margins weren't so big. I felt like I was flipping pages every 30 seconds, but that was the only thing that bothered me about this book. Its a long book, but mostly because of formatting.

The ending was very nicely put together and I am looking forward to the sequel/companion novel because I may have already picked it up.