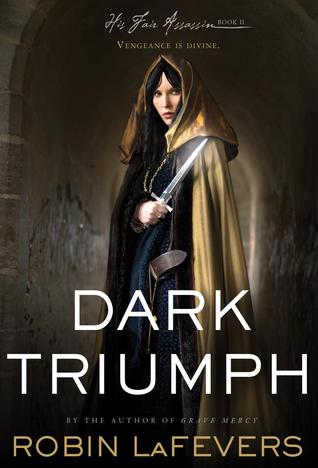 Genre: Historical Fiction
Hardcover: 385 pgs.
Published: April 2013 by Houghton Mifflin
Series: His Fair Assassins #2
Add It // Buy It
Rating: 5/5
When Sybella arrived at the doorstep of St Mortain half mad with grief and despair the convent were only too happy to offer her refuge - but at a price. The sisters of this convent serve Death, and with Sybella naturally skilled in both the arts of death and seduction, she could become one of their most dangerous weapons.
But her assassin's skills are little comfort when the convent returns her to the life that nearly drove her mad. Her father's rage and brutality are terrifying, and her brother's love is equally monstrous. But when Sybella discovers an unexpected ally she discovers that a daughter of Death may find something other than vengeance to live for...
While it took me almost four month to finish Grave Mercy, I devoured this book a matter of days. With the groundwork laid for the covenant, the gods and the state of Brittany, Sybella's story started out in a totally different way. If you were put off by the very political and historical nature of Grave Mercy, I would encourage you to try this book out before giving up on this series. If you liked those element don't despair! While those element don't disappear, Sybella's installment is much more of a character driven story with strong elements of the political drama that took root in the first book. Personally I love the mix of political intrigue and assassin adventures.
Once again we are introduced to a Handmaiden of Death, who is a strong and capable female character. Sybella has an entirely different set of orders and struggles from her sister in arms. She is taking on the entire household of the traitor D'Albret in an attempt to save her Duchess from his clutches. This story is a darker and more twisted tale. Sybella must make discisions and her life's story makes Ismae's look like a cheery tale. I mentioned in my review of Grave Mercy it was hard for me to become attached to Ismae, but I was engrossed in Sybella's story from the beginning and even more taken with Ismae when the two are reunited. (These companion novels feel a bit like a historical fiction version of the Anna and the French Kiss books by Stephanie Perkins)
The character growth through this book is fantastic and Sybella's personal story is heartbreaking, brutal and terrifying at times, but her journey through this book is really difficult to stop reading. Sybella's romance pulls her out of the darkness that is wrapped around her. I loved her romantic interest as well as the many new characters we meet in this book.
Something I really truly appreciate is LaFever's ability to keep me as interested in the fate of Brittany as I am in the romance that blossoms in her stories. She keeps them balanced and both are very engaging. It would be easy to make either subject the priority. Instead they are both important, well planned and executed. LaFevers also has a very engaging writing style that has really kept me up at night reading her stories.
Sybella has wormed her way into my heart and while I am excited to see Annith's story, I am so sad the second installment must come to an end. This book has captivated me and book three will have to be something really special for me to like it more than this one.
Check back for tomorrow for my thoughts about the third and final book in this series!