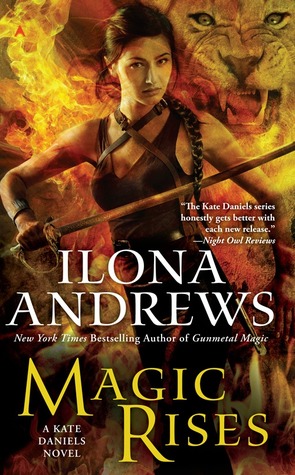 Series: Kate Daniels #6
Genre: Paranormal/Urban Fantasy
Source: Purchased
Published: July 2013
Mass Market - 327 pgs
Rating - 4/5
Mercenary Kate Daniels and her mate, Curran, the Beast Lord, are struggling to solve a heartbreaking crisis. Unable to control their beasts, many of the Pack's shapeshifting children fail to survive to adulthood. While there is a medicine that can help, the secret to its making is closely guarded by the European packs, and there's little available in Atlanta.
Kate can't bear to watch innocents suffer, but the solution she and Curran have found threatens to be even more painful. The European shapeshifters who once outmaneuvered the Beast Lord have asked him to arbitrate a dispute—and they'll pay him in medicine. With the young people's survival and the Pack's future at stake, Kate and Curran know they must accept the offer—but they have little doubt that they're heading straight into a trap…
This book hurt me. It hurt me a lot. I'm fairly sure I rated this five stars in my wrap up, but the longer I think about it the more I think I need to drop it a star.
First of all, there is something that happens in this book that makes me a little less enchanted with Kate and Curran's relationship. The events of this installment made their relationship more problematic. They have some serious trust issues and, while I have loved their ability to forgive each other, it goes to far in this novel. There are some things that have been set up as SERIOUS issues for shapeshifter relationships in past novels that are trivialized in this book. It just did not make sense to me. My other issue was with the way Kate's identity was handled. Throughout the series Kate's heritage has been a big secret, but many things were revealed too casually in this book. It was anticlimactic.
While I had some issues with Kate and Curran's relationship, I loved how Kate's relationship with the other pack members and her enemies was written. She continues to be tough and fight for what is right even when the odds are stacked against her. The authors use a variety of mythologies and represent so many cultures in the books. It amazes me how they continue to incorporate more. The storyline was so heart wrenching though! There were many tears. The beginning and ending of this particular book ripped my heart out.