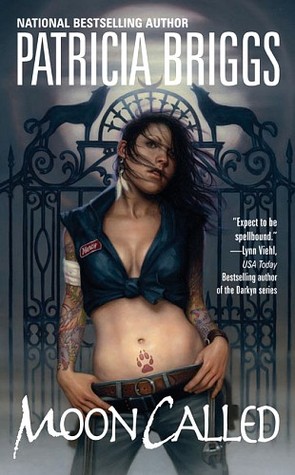 Series: Mercy Thompson Series #1
Genre: Urban Paranormal Fantasy
Age Group: Adult
Mass Market - 288 pgs
Ace - January 2006
Rating: 3.5/5
Mercedes "Mercy" Thompson is a talented Volkswagen mechanic living in the Tri-Cities area of Washington. She also happens to be a walker, a magical being with the power to shift into a coyote at will. Mercy's next-door neighbor is a werewolf. Her former boss is a gremlin. And she's fixing a bus for a vampire. This is the world of Mercy Thompson, one that looks a lot like ours but is populated by those things that go bump in the night. And Mercy's connection to those things is about to get her into some serious hot water...

Since I caught up on the Kate Daniels Series by Ilona Andrews, I have been anxious to read Moon Called. I've been looking to replace the paranormal/urban fantasy kick ass heroine sized hole in my heart. This did a good job of filling that hole.
This first book was a good set up for the series and the world. The plot was a little slow to start, there was a lot of set up, but I enjoyed the results. Mercy and her friends went on a fast paced adventure that had me glued to the page!
Mercy was a middle-of-the-road badass character. She had good instincts and her knowledge of the paranormal world provided a great foundation. At times I was frustrated she let other people take charge of the situation and she was written to be weaker than a lot of the other characters. However, I'm hopeful she will hold her own in the rest of the series.
My only big issue so far was I could not gauge the relationships between characters very well. The explanation of Mercy and Adam's antagonistic relationship at the beginning of of the novel didn't seem to justify the lengths she went to to help Adam and his daughter. Personally, I needed more background on them to believe that part of the story.
I already have my hands on book two and I'm going to keep rolling through this series I think!