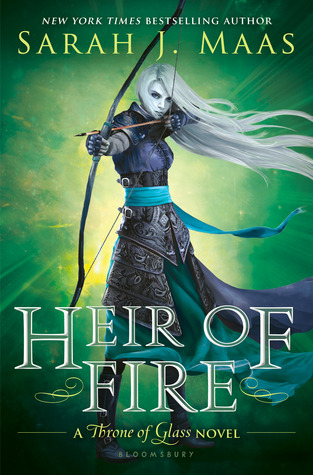 Series: Throne of Glass #3
Genre: High Fantasy
Hardcover - 562 pgs
Source: Purchased
Published by Bloomsbury (2014)
Add it // Buy it
Rating : 5/5
Lost and broken, Celaena Sardothien's only thought is to avenge the savage death of her dearest friend: as the King of Adarlan's Assassin, she is bound to serve this tyrant, but he will pay for what he did. Any hope Celaena has of destroying the king lies in answers to be found in Wendlyn. Sacrificing his future, Chaol, the Captain of the King's Guard, has sent Celaena there to protect her, but her darkest demons lay in that same place. If she can overcome them, she will be Adarlan's biggest threat – and his own toughest enemy.
While Celaena learns of her true destiny, and the eyes of Erilea are on Wendlyn, a brutal and beastly force is preparing to take to the skies. Will Celaena find the strength not only to win her own battles, but to fight a war that could pit her loyalties to her own people against those she has grown to love?
Sarah J. Maas has done it again. She blew me away with another installment in this series! When I started this series, I knew right away the fantasy world was going to be amazing. I did not realize what a captivating journey Celanea was going to go through and how crazy this ride was going to be. Maas' writing is amazing and it always draws me in.
We meet even more amazing characters in this installment and travel farther with Celaena away from the Capital to the edges of the Fae realm. It was great to expand this world even more and finally see more magic. The tone of this book is much darker and even more violent than the first two books. I love that Maas does not shy away from darker storylines. It makes her writing so much richer and even more engrossing to me.
Celaena's growth took such a huge turn in this book as well. I appreciated her slow character development over the course of the first two books and novellas but was so pleased with the massive changes in this book. We were getting to a critical moment where Celaena needed to change to keep the story moving. This series is really starting to take off and it feels like we are moving from build up to the results of decisions the characters have made. Meanwhile, all the characters are all really starting to change and find their places as conflict continues to ramp up.
While I love all of the other characters in this series, we need to talk about the King. I know literally everyone avoids him in order to stay alive. However, I need to know more about him! Every single element of this series has me hanging on my seat, but I am very curious about why the King is as evil as he is. What is this man's end game? World domination? Right now he is such an evil but out-of-reach villain, it is hanging me up as I read especially after the revelations of this book. I think this is all going to resolve in the next book,
Queen of Shadows
, but it has been bugging me.
Overall I think this is the best installment in the series yet. I loved how things changed and we learned more. I can't wait for the next book in this series! I'm glad I waited to read it as long as I did so I don't need to have such a long tortuous wait.