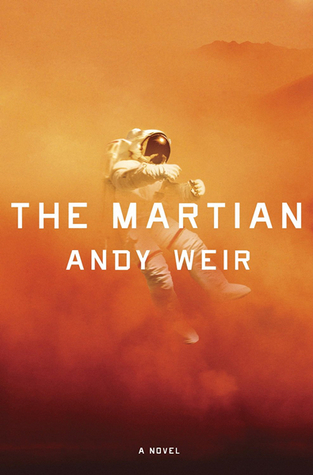 Series: Stand Alone!
Genre: Science - Fiction
Source: Library/Purchased
Published: Random House (2014)
Paperback - 385 pgs
Add it // Buy it
Rating: 5/5
Six days ago, astronaut Mark Watney became one of the first people to walk on Mars. Now, he's sure he'll be the first person to die there. After a dust storm nearly kills him & forces his crew to evacuate while thinking him dead, Mark finds himself stranded & completely alone with no way to even signal Earth that he's alive—& even if he could get word out, his supplies would be gone long before a rescue could arrive. Chances are, though, he won't have time to starve to death. The damaged machinery, unforgiving environment or plain-old "human error" are much more likely to kill him first. But Mark isn't ready to give up yet. Drawing on his ingenuity, his engineering skills—& a relentless, dogged refusal to quit—he steadfastly confronts one seemingly insurmountable obstacle after the next. Will his resourcefulness be enough to overcome the impossible odds against him?
When I originally downloaded this book from my library, I was pretty sure I would be confused and bored through most of this book. I had heard there was a lot of science involved and space isn't normally my favorite setting (although I am a big Star Trek fan). However, borrowing it from the library is a low risk investment and it was available so I thought
Well, I'll try it
.
Best decision this year!
This is my favorite book so far in 2015. While I loved so many other ones, this one really took me by surprise and blew me out of the water. The writing, characters and story are amazing. I was absorbed in Mark's story the entire time I was reading it and really felt like I was reading an actual log rather than a story. I became very invested in this story and Mark's survival and couldn't put the book down. I read about 75% of the book in one sitting then finished it the next morning.
My favorite part of this book was Mark's journal entries and the voice he had while writing them. This book is mostly Mark in his own on Mars. He is trying to figure out a way to live long enough for other space missions to reach the planet and possibly be rescued. Without the clever voice Weir has created, I think this book would've been much more difficult for me to read. Mark's voice is clear, clever, and full of personality. He really makes the book. You want him to survive as much as he does and it filled me with emotion.
There is a lot of science. However, Weir did a great job breaking things down so I understood what was what. There are a lot of explanations and you know the basics of what is going on. There are some basic terms you need to keep track of but not too much jargon that it gets overly confusing or boring. The story is rapid fire and moves really quickly. The story feels very stripped down, but the style works very well for what is going on.
At its very core this is a survival story. There are a lot of high intensity moments and dangers you aren't sure Mark will survive. Mark needs to adapt and try to figure out how to survive with minimal resources at his disposal. I cannot imagine the amount of research that went into this story or the effort it took to develop such a charismatic character. Weir created a character who had just enough sarcasm and sass to make me laugh out loud while my heart was pounding from anticipation. I was on the edge of my seat!
This is one of those books I wish I could read for the first time all over again. I doubt the experience will be the same when I reread it, but I'd like to anyway. So I want to say Thank You Andy Weir because this book was incredible. I am already pushing it on my friends and I will continue to do so. I really enjoyed this unique store and the writing is top notch! I highly recommend it!
Happy Reading!