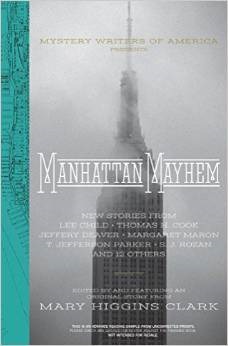 Genre: Mystery Short Story Collection
Hardcover: 320 pgs
Source: Quirk Books
Published by Quirk Books (Out today!)
Add it // Buy it
Rating: 4/5
Best-selling suspense novelist Mary Higgins Clark invites you on a tour of Manhattan's most iconic neighborhoods in this anthology of all-new stories from the Mystery Writers of America. From the Flatiron District (Lee Child) and Greenwich Village (Jeffery Deaver) to Little Italy (T. Jefferson Parker) and Chinatown (S.J. Rozan), you'll encounter crimes, mysteries, and riddles large and small. Illustrated with iconic photography of New York City and packaged in a handsome hardcover, Manhattan Mayhem is a delightful read for armchair detectives and armchair travelers alike!
I received this book from Quirk in exchange for an honest review. All thoughts are my own.
At one point I was obsessed with mystery novels. For about a year in high school I read and collected so many mass market paperbacks and devoured mysteries with content that may have been a bit too mature for me. The obsession faded, but I still pick up murder mysteries on occasion. So when Quirk offered up their beautiful collection of mysteries stories, I was pumped!
Like most collections like this I enjoyed a good chunk of the stories, but there were ones that fell flat for me. There is a great variety of topics and types of mysteries contained. It was nice to see a mix between heavy, dark stories and ones that were light-hearted well dispersed throughout the book.Since they are short, the stories are not very complex, sometimes seemed rushed and can be unpolished. I skipped the ones that didn't hold my interested but only did that a few times.

If you live in or are familiar with New York, this book will be more fun for you. While I can scrape together scenes from movies and TV, someone who knows New York will probably appreciate the descriptions of the area more.The book itself is beautiful and is formatted very nicely. The black and white photos of New York City are a nice touch and helped me place each story.


Overall, I liked the collection. Many of the stories were interesting and fun to read. I found many more that I liked than not. My favorite story was
Three Little Words
. I also really liked
Trapped!
and
Red-Headed Stepchild
. If you like mysteries, I would recommend checking this collection out.
Happy Reading