This has been a very interesting reading year for me. I've read a lot of books and I've increased my reading challenge to 125 books! However, a lot of them have been graphic novels so I constantly feel like I'm cheating. I only listed novels here though because I have read quite a few amazing ones! Top Ten Tuesday is hosted by the
Broke and the Bookish
. They come up with amazing topics every week!
1)
The Martian by Andy Weir
- Ok, these are not in any particular order except this book! The Martian blew me away earlier this year. This story is incredible and I'm anxious for the movie coming this fall as well!
2)
The Ocean at the End of the Lane by Neil Gaiman
- I finally read a Neil Gaiman this book this year and I loved it! Now I need to read another. This book surprised me and I would like to reread it at some point.
3)
Angelfall by Susan Ee
- This. Series. Is. Cray. I devoured these books and I wish there were more. Just awesome!
4)
Rebel Yell by S.C. Gwynne
- A biography of Stonewall Jackson may not sound like top ten material, but I laughed and cried during this one so it makes me list. There was so much information and the writing was very engaging.
5)
Scorched by Jennifer L. Armentrout
- This is a a companion to Frigid which is one of my favorite Armentrout books. I was so excited to read this and it hit me in the feels hard!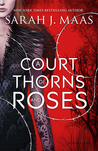 6)
Heir of Fire by Sarah J. Maa
s - I finally read this and I loved every page! I need Queen of Shadows!
7)
Wait for You by J. Lynn
- More from Armentrout! She always captures my attention and has handsome boys to read about. Plus she's been covering difficult issues very well.
8)
Outlander by Diana Gabaldon
- I was really surprised by this book. I was expecting it to be a cheesy romance story, but it is a lot more complex than that. I can't wait to pick up the sequel.
9)
A Court of Thorns and Roses by Sarah J. Maas
- Another amazing Maas book! This one really surprised me. I thought the buzz would make it a let down, but I was wrong!
10)
Siege and Storm by Leigh Bardugo
- This was the book that made me fall in love with this series. The characters, especially the pirates, were so good!
Those are the top ten books I've read so far this year! I can't wait to see what happens in the second half! I hope you have had a great 2015 thus far and good luck reaching those reading goals in the second half.