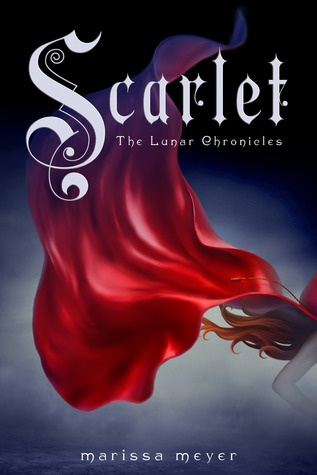 Genre: Sci-Fi Retellings
Series: Lunar Chronicles 2
Hardcover - 452pgs
Published by MacMillan
Source: My Purchase
Add it // Buy it
Rating: 5/5
Cinder, the cyborg mechanic, returns in the second thrilling installment of the bestselling Lunar Chronicles. She's trying to break out of prison--even though if she succeeds, she'll be the Commonwealth's most wanted fugitive. Halfway around the world, Scarlet Benoit's grandmother is missing. It turns out there are many things Scarlet doesn't know about her grandmother or the grave danger she has lived in her whole life. When Scarlet encounters Wolf, a street fighter who may have information as to her grandmother's whereabouts, she is loath to trust this stranger, but is inexplicably drawn to him, and he to her. As Scarlet and Wolf unravel one mystery, they encounter another when they meet Cinder. Now, all of them must stay one step ahead of the vicious Lunar Queen Levana, who will do anything for the handsome Prince Kai to become her husband, her king, her prisoner.
Let me set a little scene up for this review. You may remember I gave Cinder a rather wishy-washy review a few weeks ago after I finished it. I wanted to love the book, but overall I had mixed feelings. It didn't stand up to the expectations I had going in because of hype, even though I knew I shouldn't let that taint the experience for me. The predictability of Cinder also really bugged me even though I knew it was a retelling.
So I had a few problems with Cinder but still wanted to move forward with the series. I started Scarlet with lower expectations a few days later. Let me tell you book two was a revelation for me!
I no longer have reservations about this series. Almost immediately I was sucked into this book. The beginning caught my attention much faster and Scarlet's story reinvested me in the series. The mystery surrounding the Lunars becomes even more suspenseful and has even higher stakes in this book. I loved the new characters we added to the story in this book and cannot wait to see where they go in the future.
Overall, I was much more impressed with this book. Meyers melds the two main story lines together so well and all of the character's voices are distinct. There are a lot of character point of views to cover and they all feel complete and necessary. Overall I enjoyed this book even more than Cinder and now I'm thrilled to move forward with the series!
I'm planning on starting Cress with a glass of wine in the tub tonight and I'm super excited.