by Cassandra Clare & Art by HyeKyung Baek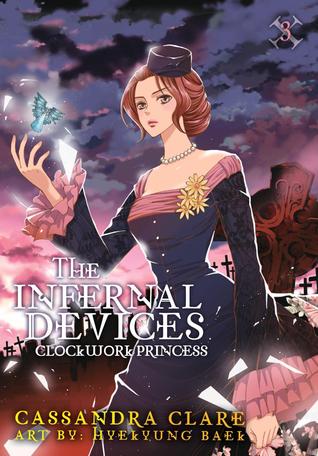 A manga-adaption to the prequel of Cassandra Clare's Mortal Instruments series, The Infernal Devices is the story of Tessa Gray, a sixteen-year-old American girl traveling alone to Victorian London who runs afoul of the city's sordid supernatural underworld. Rescued by the Shadowhunters of the London Institute, Tessa quickly finds herself caught up in an intrigue that may very well destroy her new friends - including the two enigmatic young men, Jem and Will, who have taken her under their wing...
Genre: Paranormal Manga Adaptation
Published by Yen Press
Add it// Buy it
Series Rating: 4.5/ 5
If you like the Infernal Devices or manga series or both, I imagine you'll love this. I did. I haven't felt like reading recently, but I really wanted to read this as soon as I bought it. It hasn't solved my lack of reading desire, but it really helped. These are just fantastic adaptations of the original series. It gave me all the same conflicted feelings as the original series. It made me laugh and cry just like the novels did as well! The entire series is adapted and the whole plot is included. Even if you haven't read the original novels, you can enjoy these without any problems and they are fun to read after reading the entire series as well!!
Part of the fun in this adaptation, for me at least, was since it is a manga adaptation, the art made the story a bit dramaticized. If you've read manga, you probably know what I mean. Every exclamation is more surprising and every declaration of love is more heart-wrenching. I loved every single panel. Actually I was more conflicted about the love triangle in this adaptation than I was during the original series.
The art is delightful as well. I think it is fantastic they kept the same characters on the covers as the originals. Its just a nice detail. Overall the art is simple with the right amount of dialogue and detail without being overwhelming or confusing. Actually, the only problem I had with the entire series was the format of the books is opposite of normal manga. That is to say, the books read front to back which took a little getting used too since all the other manga I've read go back to front.
I gave the first two book four stars and the final book five stars. I wish the Mortal Instruments were adapted in this same way. Right now, they are not, but maybe in the future. Here's hoping!