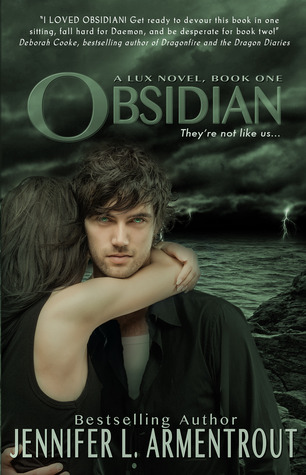 Genre: Paranormal YA Romance
Paperback - 335 pgs
Published by Entangled Teen (2012)
Source: Purchased (x2)
Rating: 5/5
When we moved to West Virginia right before my senior year, I'd pretty much resigned myself to thick accents, dodgy internet access, and a whole lot of boring... until I spotted my hot neighbor, with his looming height and eerie green eyes. Things were looking up.
And then he opened his mouth.
Daemon is infuriating. Arrogant. Stab-worthy. We do not get along. At all. But when a stranger attacks me and Daemon literally freezes time with a wave of his hand, well, something... unexpected happens.
The hot alien living next door marks me.
You heard me. Alien. Turns out Daemon and his sister have a galaxy of enemies wanting to steal their abilities, and Daemon's touch has me lit up like the Vegas Strip. The only way I'm getting out of this alive is by sticking close to Daemon until my alien mojo fades.
When I finished rereading this book, I was going to update my review to include some new thoughts I had. Instead I realized I never wrote a review!
Originally I read this book at the end of December in 2012 in one sitting. I sat up until one in the morning reading on my iPad then I started Onyx in the same night. The next day I read Opal and Shadows (the prequel to this series) Needless to say, I was addicted. The final two books weren't out in the series at the time and I couldn't wait for more. Sadly as I waited, the excitement faded and I moved onto other books. I forgot about this series that was so much fun and easy to reading.
Now a full two years later I have started rereading this series. Obsidian was the perfect way to kick off my reading year. It is just as fun and addicting as it was two years ago. Katy and Daemon have great chemistry and their banter is hilarious. The romance of course has lots of steamy moments and you can see some of these twists a mile away. You cannot go into this series looking for serious or literary writing. It isn't here. Instead these books are 100% fun and leave me wanting more. (
Like I said, addicted
)
Katy is an awesome character. She is spunky and has a love for books I can completely connect with. I often wish her love of books played a larger part in the story, but I love when it makes an appearance. She is as loyal as she is stubborn which can make for some interesting situations. Plus she and Dee have a great relationship that is important to both of them, not just used to introduce Katy to Daemon.
There a lot of parallels between this book and Twilight out there. I remember thinking the same thing when I originally read it. However, this book has a different feel from Twilight and the writing is better. I love Armentrout's stories. She is excellent at writing romances I cannot get enough of. I'm really hoping to finish this series this year.
A lot has changed in two years but not my love of this book! Definitely check it out if you haven't jumped on this train yet.