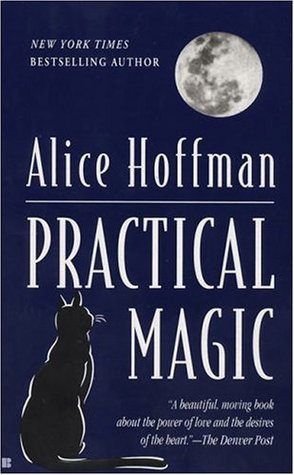 Series: Standalone
Genre: Magical Realism
Source: Library Book Sale
Paperback - 317pgs
Add it // Buy it
Rating - 2/5
When the beautiful and precocious sisters Sally and Gillian Owens are orphaned at a young age, they are taken to a small Massachusetts town to be raised by their eccentric aunts, who happen to dwell in the darkest, eeriest house in town. As they become more aware of their aunts' mysterious and sometimes frightening powers -- and as their own powers begin to surface -- the sisters grow determined to escape their strange upbringing by blending into "normal" society.
But both find that they cannot elude their magic-filled past. And when trouble strikes -- in the form of a menacing backyard ghost -- the sisters must not only reunite three generations of Owens women but embrace their magic as a gift -- and their key to a future of love and passion. Funny, haunting, and shamelessly romantic, Practical Magic is bewitching entertainment -- Alice Hoffman at her spectacular best.
Everyone says the book is always better. I would argue the book is always better if you don't already love the movie. When I stumbled across the inspiration for one of my favorite movies at a used book sale, how could I say no?
There are big differences between these two stories though and I think my expectations were too high for the book. While I enjoyed the book overall, it never really clicked for me. The writing style is a little strange and is heavy on description. I did like the darker moments in the book, but they never amounted to anything. Most of the time there were too many descriptors for the situation. It made the story drag on and on.
While I wanted to love all of the characters, I didn't like any of them. There was never a time when I really felt connected or invested in the characters because the story switched narrators every few pages. The magic did not impress me either. The magic was too overt to be mysterious and was much less charming than I wanted it to be. I definitely found this book interesting and I read it very quickly. After I started though and the story didn't click with me, I found I was more interested in finding out the differences between this story and the movie.
Quick Thoughts
: This was not my favorite example of magical realism. Overall, it just didn't keep my attention and wasn't anything spectacular. I don't know if I'll be picking up anything else by Alice Hoffman anytime soon.
Happy Reading!