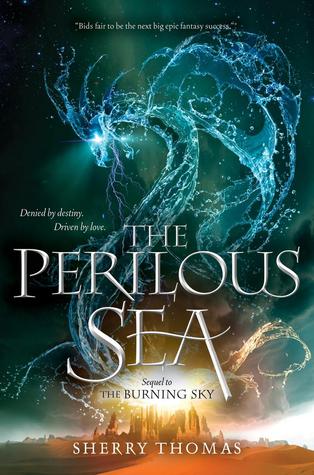 Series: The Elemental Trilogy #2
Published – September 2014
After spending the summer away from each other, Titus and Iolanthe (still disguised as Archer Fairfax) are eager to return to Eton College to resume their training to fight the Bane. Although no longer bound to Titus by a blood oath, Iolanthe is more committed than ever to fulfilling her destiny—especially with the agents of Atlantis quickly closing in.

Soon after arriving at school, though, Titus makes a shocking discovery, one that makes him question everything he previously believed about their mission. Faced with this devastating realization, Iolanthe is forced to come to terms with her new role, while Titus must choose between following his mother's prophecies—and forging a divergent path to an unknowable future.
The only thing this series lacks is a map. There is amazing magic, a scary tyrant, a prince, mages and so much more but no map. Alas, maps do not make or break fantasy series.
However, I have no other complaints about this second installment.
The tension and twists in this story made it a great second installment. Instead of the Second Book Syndrome a lot of book suffer from, where it seems like all set up for book three, we had major obstacles to over come and the characters had to reexamine themselves. I loved this! It was hard to read at times because I love this couple and their struggles hurt me, but it made the story stand out. This installment was needed and I loved how much more character depth it added.
Here we find I have picked up another book set in the Victorian Age and I cannot help but adore it. Magic in the Victorian Age? I am lost!
I still love the dynamic Thomas creates by traveling between the larger world and the small boarding house. The plot thickens even further, but even as the drama picks up, the action doesn't stop. In this book we are following two timelines and the duel stories really keeps the story moving. I was loath to leave each set of characters and felt both were necessary. It threw me off at first, but it worked very very well.
All of the magic in this book is delightful. The magical creatures alone are incredible.There are wyverns and phoenixes! I love it. Thomas continues to build her world and we travel even farther abroad. I loved the combination between our world and the fantasy elements from the first book and it was as strong in this story.
Her world is so seamlessly mixed with ours and I want to live there.
Quick Thoughts: So far this series has really impressed me and I enjoy it immensely. I swoon over the romance and love the surprises around every turn. This series is seriously underrated and I haven't heard anyone rave about it. Go check this series out now! The final book is out now so you can easily binge the entire thing!