This has been a month absolutely full of favorite things! I discovered new things and rediscovered old things that I love. Also after putting together this list, I realized this month has been appropriately dark. It has been fantastic. What are your favorites for the month?
Book Favorite:
When
A Madness so Discreet
arrived at my house, I couldn't ignore it. I was so drawn to this book and I read through it in a just a few days. This book was a great read and it occupied my thoughts even after I finished the book.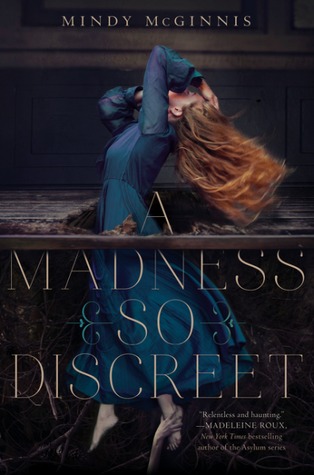 Blog/Video Favorite:
This month I posted a lot of reviews both for
#AllHallowsWeek
and for my regular Friday reviews. I had a lot of fun reading all these Spooky Reads for October and I was so pumped for Halloween when it finally arrived. Even so, I think my favorite post from this month was :
Top Ten Wishes I'd Ask the Book Genie For.
This post was so much fun to think about and I enjoyed reading everyone else's ideas. This was a
Top Ten Tuesday
post and so many other bloggers had great ideas for wishes!
Music Favorite:
Life Favorite:
This month my life favorite is RUNNING. After a few months of pushing myself to exercise, I've finally turned running into a hobby as much as a exercise. I can run a mile in under 10 minutes and I really enjoy doing it. I am as surprised as you that this has come about!
Movie Favorite:
I loved the book so I had to go see the movie on opening weekend. It was amazing and I want to see it again! If you need more convincing check out
my post reviewing the adaptation
!
TV Favorite:
This show is so crazy. I cannot stop watching it because every episode is unpredictable and out there! I thought the whole show was about aliens but it has a lot more going on.
I haven't played video games in a few months. I love games, but I've been more focused on blogging, reading and binging my favorite TV shows than playing games. However I am really into Dishonored for PS4 right now. I've played this game of PS3 before but I'm enjoying play it on the new system too.
Throughout October I've been listening to one of The Great Courses that are available one Audible. Since graduating college, I've missing the classroom/lecture part of college especially my history classes. Most of them are over 24 hours of lectures and I am really enjoying the one I'm listening to about the American Civil War.

It was a fantastic month! Happy Reading!