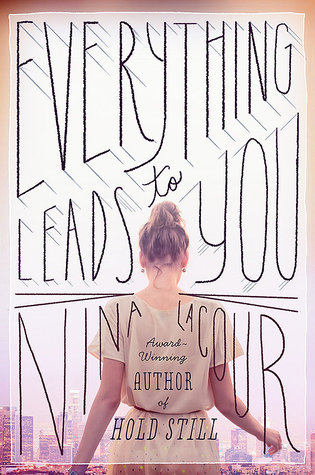 Genre: Contemporary Romance
Hardcover: 307 pgs (Hardcover)
Published: May 2014 by Penguin
How I got it: Borrowed Library Copy
Rating 5/5
A wunderkind young set designer, Emi has already started to find her way in the competitive Hollywood film world.
Emi is a film buff and a true romantic, but her real-life relationships are a mess. She has desperately gone back to the same girl too many times to mention. But then a mysterious letter from a silver screen legend leads Emi to Ava. Ava is unlike anyone Emi has ever met. She has a tumultuous, not-so-glamorous past, and lives an unconventional life. She's enigmatic…. She's beautiful. And she is about to expand Emi's understanding of family, acceptance, and true romance.
It is quite past the season for summery contemporary books, but I picked one up recently since I was in the mood for something light. It sounded like a good way to extend my summer! While contemporary isn't a genre I reach for often, I do love them when I pick them up. This book has a lot of hype surrounding it so my interest was piqued but I remained unconvinced it would thrill me when I brought it home from the library.
I was pleasantly surprised. The book is worthy of the rave reviews it is receiving and I was really caught off guard by the depth and beauty of the novel.
Everything Leads to You
was a great read and a contemporary with many engaging elements that made it impossible to put down.
There were so many lovely things about this book and I'm not sure where to start. It's a gem.
Let's begin with characters.
The whole book is charming and t
he characters are easy to relate to. I really felt like I was reading about friends throughout the book.
Emi is young and naive about things, but her character development throughout the book felt real and true. Charlotte and Emi had such a fantastic friendship which is so nice to see. Too often girls are pitted against one another, but in this story the friendship is so essential and lovely.
Not only are the characters well developed, the writing is gorgeous. This was my first Nina LaCour novel and her writing style is fantastic. The mystery elements were really cool as well. It was woven into the book much deeper and stayed part of the story much longer than I was expecting. I thought this worked out really well though since the mystery was thoroughly examined and not oversimplified. It didn't feel rushed or incomplete.
Also I like it when books make me want to explore something new. After reading this book, I really want to learn more about movies. Emi had such a passion for movies and set design. It made me want to know more about the process and appreciate it more when its on screen.
Then there is romance! This was the first book I've read where the main character is gay and the story is not a coming out novel. I thought Nina LaCour wrote an amazing contemporary romance and I thought it was so well developed. There are real obstacles and issues that could get in the way of this romance and, again, LaCour did not oversimply. She spent a lot of time developing and sorting out the issues before the romance took off.
Overall I just loved this book to pieces and I'll be picking up something else by Nina LaCour very soon!