As interesting and complex as graphic novels can be, I find that doing full reviews of them can be really challenging. I don't have as much to say about them. So I'm going to do a bunch of mini-reviews of all the graphic novels I've read in the past few months.
Saga by Brian K. Vaughn (Writer) and Fiona Staples (Artist)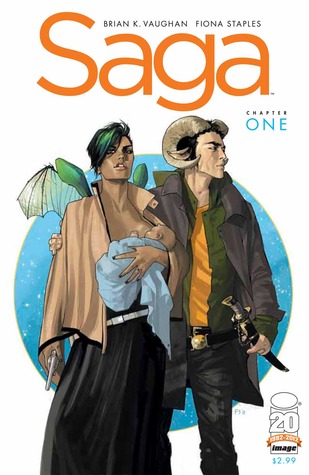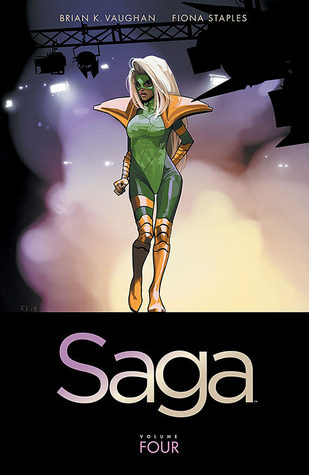 Synopsis:
Star Wars-style action collides with Game of Thrones-esque drama in this original sci-fi/fantasy epic for mature readers, as new parents Marko and Alana risk everything to raise their child amidst a never-ending galactic war.
My Thoughts:
This graphic novel series is amazing. The art is so vibrant and detailed. I absolutely love it. The storyline is also very very good. It had A LOT of adult content though (swearing, nudity and tons of violence). This series is all the rage right now, but I still really enjoy it. The character's stories are very addicting/
The Infernal Devices Manga Adaptation by Cassandra Clare and HyeKyung Baek (Artist)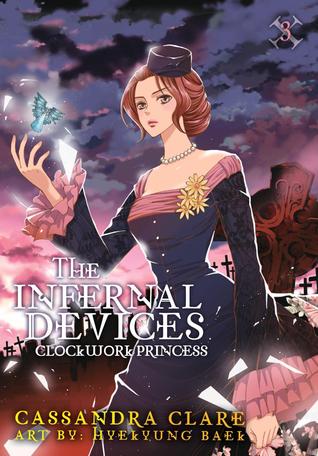 Synopsis:
A manga-adaption to the prequel of Cassandra Clare's Mortal Instruments series, The Infernal Devices is the story of Tessa Gray, a sixteen-year-old American girl traveling alone to Victorian London who runs afoul of the city's sordid supernatural underworld. Rescued by the Shadowhunters of the London Institute, Tessa quickly finds herself caught up in an intrigue that may very well destroy her new friends - including the two enigmatic young men, Jem and Will, who have taken her under their wing...
My Thoughts:
I have a
series review
posted for this series, but I wanted to mention this series. I loved this. It was adapted so well and the art was fantastic too. Highly recommended if you like the original books.
Hawkeye Vol. 1 - My Life as a Weapon
by Matt Fraction, David Aja (Illustrations), Javier Pulido (Illustrations), Alan Davis (Illustrator)
Synopsis:
The breakout star of this summer's blockbuster Avengers film, Clint Barton - aka the self-made hero Hawkeye - fights for justice! With ex-Young Avenger Kate Bishop by his side, he's out to prove himself as one of Earth's Mightiest Heroes! SHIELD recruits Clint to intercept a packet of incriminating evidence - before he becomes the most wanted man in the world. You won't believe what is on The Tape! What is the Vagabond Code? Matt Fraction pens a Hawkeye thriller that spans the globe...and the darkest parts of Hawkeye's mind. Barton and Bishop mean double the Hawkeye and double the trouble...and stealing from the rich never looked so good.
My Thoughts:
This is a great introduction to Clint Barton. I really haven't read any superhero comics before, but this really intrigued me. I loved Hawkeye in the Avengers movie so I picked this up during one of my graphic novel binges. It is hilarious and really fun to read. Basically Clint is just getting into trouble all the time. There are several extra comics in the back of the kindle edition which I found confusing, due to my lack of background on the Marvel universe, but I liked it a lot over all. I want more!
The League of Extraordinary Gentlemen, Vol. 1 by Alan Moore, Kevin O'Neill (Illustrator)

Synopsis: London, 1898. The Victorian Era draws to a close and the twentieth century approaches. It is a time of great change and an age of stagnation, a period of chaste order and ignoble chaos. It is an era in need of champions.
In this amazingly imaginative tale, literary figures from throughout time and various bodies of work are brought together to face any and all threats to Britain. Allan Quatermain, Mina Murray, Captain Nemo, Dr. Henry Jekyll and Edward Hyde and Hawley Griffin ( the Invisible Man) form a remarkable legion of intellectual aptitude and physical prowess: The League of Extraordinary Gentlemen.
My Thoughts: I enjoyed this introduction to the League and the characters. I would like to read more of the series. The art style wasn't my favorite. I thought the style was a little confusing and made the story difficult to follow.
Zita the Spacegirl (Vol. 1) by Ben Hatke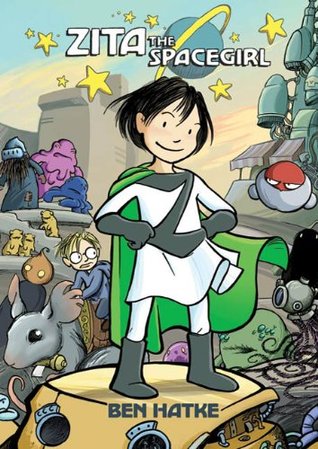 Synopsis:
Zita's life took a cosmic left turn in the blink of an eye.When her best friend is abducted by an alien doomsday cult, Zita leaps to the rescue and finds herself a stranger on a strange planet. Humanoid chickens and neurotic robots are shocking enough as new experiences go, but Zita is even more surprised to find herself taking on the role of intergalactic hero. Before long, aliens in all shapes and sizes don't even phase her. Neither do ancient prophecies, doomed planets, or even a friendly con man who takes a mysterious interest in Zita's quest.
Zita the Spacegirl is a fun, captivating tale of friendship and redemption from Flight veteran Ben Hatke. It also has more whimsical, eye-catching, Miyazaki-esque monsters than you can shake a stick at
My Thoughts: This is such a fun quirky little graphic novel. I borrowed this from my library and I am so disappointed they don't have more of the series. I fell in love with the characters and the imaginative artwork! I had so much fun reading this and I even cried a little bit at the end. A great story for all ages.
Maus: A Survivor's Tale: My Father Bleeds History (Vol. 1 & 2) by Art Spiegelman
Synopsis:
A story of a Jewish survivor of Hitler's Europe and his son, a cartoonist who tries to come to terms with his father's story and history itself.
My Thoughts: Even though this series is very good, I didn't love it as much as everyone else does. I thought it was an excellent representation of events and the story really made me think. The dynamic between the mice and cats worked well too.
This One Summer by Mariko Tamaki and Jillian Tamaki (Illustrator)
Synopsis: Every summer, Rose goes with her mom and dad to a lake house in Awago Beach. It's their getaway, their refuge. Rosie's friend Windy is always there, too, like the little sister she never had. But this summer is different. Rose's mom and dad won't stop fighting, and when Rose and Windy seek a distraction from the drama, they find themselves with a whole new set of problems. It's a summer of secrets and sorrow and growing up, and it's a good thing Rose and Windy have each other.
In This One Summer two stellar creators redefine the teen graphic novel. Cousins Mariko and Jillian Tamaki, the team behind Skim, have collaborated on this gorgeous, heartbreaking, and ultimately hopeful story about a girl on the cusp of her teen age—a story of renewal and revelation.
My Thoughts: This is probably my least favorite of the bunch. It is a nice coming of age story about friendship and growing up, but it left me wanting a lot more. The story ended up too abstract and disconnected even though I really loved a lot of the art. Sometimes the panels were confusing and I had to reread several times to really understand.
Avatar the Lost Airbender by Gene Luen Yang, Bryan Konietzko and many others.
Synopsis:
There are several ebook stories available including The Search series (three installments) and The Lost Adventures which is a collection of short comic style stories. The Search Series takes place several years after the series and is Zuko's search for his mother. The Lost Adventures take place throughout the original adventures.
My Thoughts:
If you like the original Avatar series, I think you will really enjoy these additions. All the stories are short and most of them hilarious. Many of The Lost Adventures take place in between or during episodes of the original series which is a lot of fun. I found The Search to be an ok explanation of what happened to Zuko's mother, but not very straightforward.

So that's a wrap!

I really enjoyed reading so many graphic novels over the past few months and hope you enjoyed my thoughts. If you have suggestions for graphic novels, please let me know. I'm always looking for new ones. They just go by so quickly!