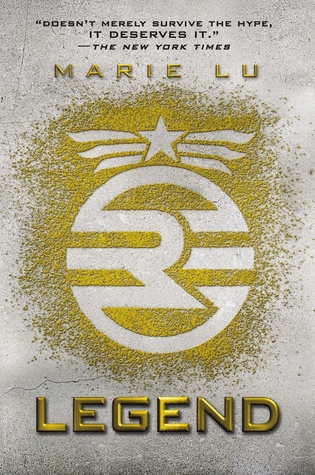 Genre: Sci-Fi Dystopian
Hardcover - 305pgs
Source: Purchased
Published by Speak in April 2013
Add it // Buy it
Rating - 2.5 - 3/ 5
From different worlds, June and Day have no reason to cross paths...
Until June's brother is murdered, and Day becomes the prime suspect.
In a shocking turn of events, the two uncover what has really brought them together, and the sinister lengths to which their country will go to keep its secrets.
I've seen video of Maire Lu speaking at a few panels and I've always liked her twitter and how she expresses herself. She seems like a really lovely human being and I was really excited to read Legend since I've heard so many amazing things about this series. I mean there are rave reviews of this book across the internet both on blogs and booktube.Expectations were high!
So I was confused and disappointed when I could not get into this story. The first half of the book was especially hard to read for me. The last thing I want to do is tear this book apart. I wanted to like it so much, but it fell completely flat.
Maybe if I had read this a few years ago, before I read so many dystopians and found I actually don't love them as much as everyone else, I would have enjoyed it more. Possibly, but it still had a lot of problems. My main issues with the story was the believability and the predictability. For one thing, the government policies just seemed too far fetched and the character's abilities didn't seem physically possible. I also felt like I knew exactly what was happening throughout the book and it kept me from losing myself in the story.
The world building was seriously lacking as well and even though I liked this characters, I wasn't strongly attached to them.There were parts of this book that should have made me cry, but I wasn't invested enough. I was confused why the Republic and the Colonies were at odds. I'm not sure I care enough to continue reading this series, but I do own the other two books so it may happen.
To wrap it up I didn't hate this book. I probably would have enjoyed it more if the hype had been less or if the characters and world building had been fleshed out more it could have been a bigger hit with me. It was just missing too many things.
Happy Reading!
**I read this book as part of the #WednesdayYA Book Club. Check out the hosts,
Misty
and
Liz
. Their live show discussion of the book is also here.