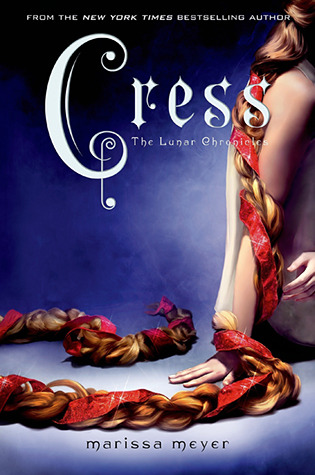 Genre: Sci-Fi Retellings
Hardcover:
Source: Purchased
Add It // Buy It
Rating: 5/5
In this third book in the Lunar Chronicles, Cinder and Captain Thorne are fugitives on the run, now with Scarlet and Wolf in tow. Together, they're plotting to overthrow Queen Levana and her army.
Their best hope lies with Cress, a girl imprisoned on a satellite since childhood who's only ever had her netscreens as company. All that screen time has made Cress an excellent hacker. Unfortunately, she's just received orders from Levana to track down Cinder and her handsome accomplice.
When a daring rescue of Cress goes awry, the group is separated. Cress finally has her freedom, but it comes at a high price. Meanwhile, Queen Levana will let nothing prevent her marriage to Emperor Kai. Cress, Scarlet, and Cinder may not have signed up to save the world, but they may be the only hope the world has.
Another installment in this series has seriously impressed me. This story just keeps getting better and better. In this book we follow Cress who is a hacker on a spaceship orbiting Earth. While she is supposed to be working for the Lunars, her loyalties are more complex than that. This book is as fast paced and thrilling as the first two books and there are surprises around ever turn.
As you know if you've been reading this series, each book focuses on a different fairy tale and I was really excited to get to Cress after seeing a glimpse of her in Cinder. This is the retelling of Rapunzel (and I almost typed Tangled) and basically I loved it. The action and adventure in this book, again, is fantastic. My heart was pumping during so much of this book!
Meyer's ability to weave the story together and craft an excellent futuristic world is impressive. I can't imagine how muchh planning and thought went into her world and characters. There is great character development in these books and I really enjoy the relationships we saw develop over the course of this book as well. I'm so excited for the final installment of this series and I've already picked up Fairest!