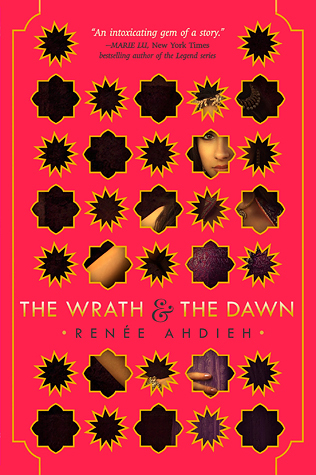 Series: The Wrath and The Dawn #1
Genre: Fantasy/Fairytale Retelling
In a land ruled by a murderous boy-king, each dawn brings heartache to a new family. Khalid, the eighteen-year-old Caliph of Khorasan, is a monster. Each night he takes a new bride only to have a silk cord wrapped around her throat come morning. When sixteen-year-old Shahrzad's dearest friend falls victim to Khalid, Shahrzad vows vengeance and volunteers to be his next bride. Shahrzad is determined not only to stay alive, but to end the caliph's reign of terror once and for all.
Night after night, Shahrzad beguiles Khalid, weaving stories that enchant, ensuring her survival, though she knows each dawn could be her last. But something she never expected begins to happen: Khalid is nothing like what she'd imagined him to be. This monster is a boy with a tormented heart. Incredibly, Shahrzad finds herself falling in love. How is this possible? It's an unforgivable betrayal. Still, Shahrzad has come to understand all is not as it seems in this palace of marble and stone. She resolves to uncover whatever secrets lurk and, despite her love, be ready to take Khalid's life as retribution for the many lives he's stolen. Can their love survive this world of stories and secrets?
Quick Thoughts:
After finishing this I have very mixed feelings. There was a lot of hype surrounding this release, but it didn't quite live up to all the buzz. There were a lot of things I liked, but I wasn't blown away like I expected to be after so many people rated it so highly.
Full Review:
Overall, I like more than I didn't.
The premise was what captured my attention in the first place and the set up to this story was well crafted. Shahrzah herself was one of the strongest parts of the novel. She was cunning and curious which drove the plot forward in ever changing ways. Personally, I thought the romance was well paced and Shahrzad's voice was believable. The inclusion of the original storytelling element was interesting and I'm excited too see if that will still be relevant in the next book.
Many of the things I had issues with could change in book two and toward the end of the book I saw some hopeful signs that they will. The secondary characters were very flat to me. I would have like more character development from them and, in general, there could have been more world building. The magic especially needs to be fleshed out. It didn't play a direct role in many of the events in this book, but I think it will be important soon.
My biggest disappointment was I wasn't really engaged in this story until late in the book. Towards the end I became very engaged with the characters and events as they unfolded. Now I'm exited for book two, but I wasn't sure until late in the story if that would be the case.