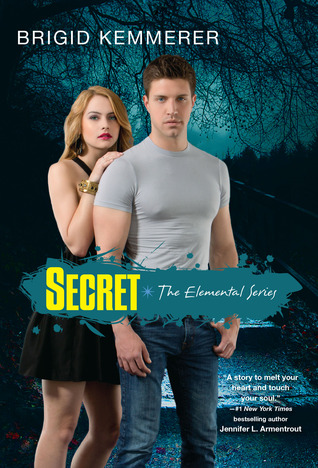 Genre: Paranormal
Published - Kensington Teen
Rating - 4/5
Nick Merrick is stretched to breaking point. He's trying to keep his grades sky-high or he won't get in to college. He's trying to keep his brother's business afloat or the Merricks will be out on the street. He's trying to keep the secret of where he's going in the evenings from his twin brother Gabriel - or he fears he'll lose his family. And he's trying to keep his mind off the hot, self-assured dancer who is his 'girlfriend's' partner.
And then Quinn takes to hanging around his sworn enemy, and an Elemental Guide is counting the hours until he can try again to kill the Merrick brothers. Storms are brewing. On all sides.


Quick Thoughts:
Throughout this series I have swooned over the romances and waited anxiously for the action sequences. It was no different this time and Kemmerer continues to astound me. I am so pleased there was just as much sexual tension and tenderness included in this book as in others.
Full Review:
All of the characters in this series have been faced with challenges though I don't think any of them have struggled as much as Nick or Quinn. The two of them face down some deeply personal problems and struggle mightily about how to solve them. Personally, I find it refreshing Kemmerer handles difficult issues with great care and respect. Nick's raw emotions felt tangible each time he talked about coming out to his brothers and his words were charged with sexual tension whenever he talked about Adam. It was fantastic and a lot of fun to read.
I do have a few issues in this book mostly regarding Quinn. While I do like how Kemmerer's characters face challenges and struggle with tough issues, Quinn was the queen of issues and I was confused about a lot of how came to be. Her background didn't seem fully explained and I had issues about how she approached some of her problems. Overall I liked her, but her character arc seems like the weakest one out especially she's been in the books since the beginning.
While I love this series, I'm starting to see a pattern here. Brother is having relationship trouble and reluctantly talks to older brother Michael who puts life into perspective and shares a part of his life he hasn't told any of the other siblings usually relating to their parents. It rips my heart out every time too.
Though I loved this book, we did not make much progress regarding the paranormal aspect of the story. I feel like there is still a lot of ground to cover in the final book and a lot of mystery surrounding the Guides and Elementals especially after what happened in Spirit. Going forward, I am nervous about book five being titled Sacrifice. I am terrified we will lose one of the brothers which would devastate me.
Happy Reading