As of this moment I do not have any preorders coming in June and I'm trying to keep that going. However, I could easily break down to order this title. I am a sucker for historical figures and strong ladies. The synopsis also compares this to The Princess Bride which is one of my favorite movies. I'm going to try and rein it in until I see a few reviews, but I can't wait for it to be released! The early reviews I've seen are all good and the three authors sound fantastic, but my wallet weeps so I'm trying not to order this at this moment. You go order it for me and I'll live vicariously through you!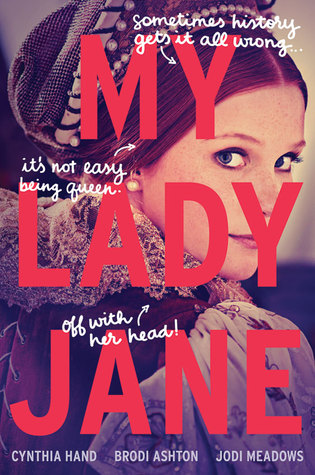 Expected Publication: June 9, 2016
The comical, fantastical, romantical, (not) entirely true story of Lady Jane Grey. In My Lady Jane, coauthors Cynthia Hand, Brodi Ashton, and Jodi Meadows have created a one-of-a-kind fantasy in the tradition of The Princess Bride, featuring a reluctant king, an even more reluctant queen, a noble steed, and only a passing resemblance to actual history—because sometimes history needs a little help.
At sixteen, Lady Jane Grey is about to be married off to a stranger and caught up in a conspiracy to rob her cousin, King Edward, of his throne. But those trifling problems aren't for Jane to worry about. Jane gets to be Queen of England.