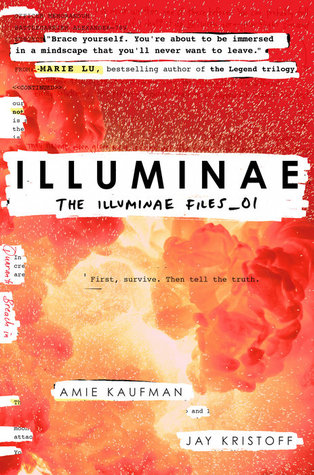 Series: The Illuminae Files #1
The year is 2575, and two rival megacorporations are at war over a planet that's little more than an ice-covered speck at the edge of the universe. Too bad nobody thought to warn the people living on it. With enemy fire raining down on them, Kady and Ezra—who are barely even talking to each other—are forced to fight their way onto an evacuating fleet, with an enemy warship in hot pursuit.
But their problems are just getting started. A deadly plague has broken out and is mutating, with terrifying results; the fleet's AI, which should be protecting them, may actually be their enemy; and nobody in charge will say what's really going on. As Kady hacks into a tangled web of data to find the truth, it's clear only one person can help her bring it all to light: the ex-boyfriend she swore she'd never speak to again.
Told through a fascinating dossier of hacked documents—including emails, schematics, military files, IMs, medical reports, interviews, and more—Illuminae is the first book in a heart-stopping, high-octane trilogy about lives interrupted, the price of truth, and the courage of everyday heroes.
Last fall this book got a lot of buzz. The glowing reviews poured in, but I was unconvinced. Dead House came out at about the same time and disappointed me so I wasn't ready to try another unconventional novel. Recently though my interested was peaked when one of my favorite booktubers (Elizabeth from Books and Piece) raved about this story in one of her wrap ups.
First of all the premise is much more complex than any description I heard last fall led me to believe. Originally I thought this book was about two teens on a spaceship who were running from an invasion while trying not to kill each other over their breakup. As you can tell from the description above this sci-fi thriller is actually about a malfunctioning ship computer, viruses and teen hackers. It is not the typical YA book and it was a ton of fun to read!
Once I started reading I was hooked. The pace of this story is like a snowball rolling down hill. As I was reading the story the pace increased until I felt glued to the page and the story was on the edge of being out of control. Throughout the book the authors described the effects of stress and fear on all the characters really well. From the captains of the ships down the main characters, everyone reacted differently and struggled to remain in control in the face of danger and loss. It was chilling to read some of the accounts in this dossier not only of the human characters but the computer as well. I had goosebumps many times.
While I was absorbed in the story itself, the format was a little hit and miss for me. A majority of the time it actually sped up my reading and helped me stay engaged in the story. There were a few points though when the text/graphics slowed me down and forced me to disengage with the story to read the spirals of text. Overall, the format connected me emotionally to the story more than many traditional novels have and I think it was effective. I have heard amazing things about the ebook as well and would like to check it our for a reread.
Amazing book overall and I cannot recommend this first book enough. I'm excited to continue on with this series as soon as possible.
Check out my last review: