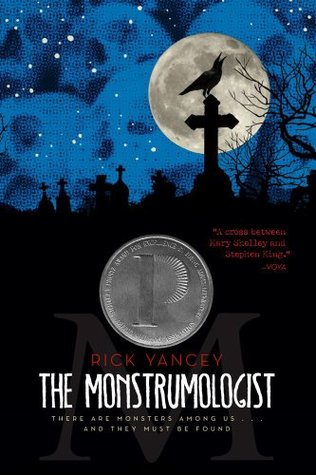 '
Series: Montrumologist #1
Published: Simon & Schuster (2010)
Rating: 5/5
These are the secrets I have kept. This is the trust I never betrayed. But he is dead now and has been for more than forty years, the one who gave me his trust, the one for whom I kept these secrets. The one who saved me . . . and the one who cursed me.


So starts the diary of Will Henry, orphaned assistant to Dr. Pellinore Warthrop, a man with a most unusual specialty: monstrumology, the study of monsters. In his time with the doctor, Will has met many a mysterious late-night visitor, and seen things he never imagined were real. But when a grave robber comes calling in the middle of the night with a gruesome find, he brings with him their most deadly case yet.

A gothic tour de force that explores the darkest heart of man and monster and asks the question: When does man become the very thing he hunts?
This book had MANY things that make me happy. There are MONSTERS. There is a man who reminds me of Sherlock Holmes, but he believes in monsters. There is a compelling and interesting narrator who breaks the fourth wall and they are in New England during the Victorian Age.
How could I not love this book?
While this book is targeted to teens because it has a young narrator, it has one of the most terrifying set of monsters I have ever read. These beasties want to eat humans in no uncertain terms and they are undeniably frightening. At times this story is gory and frankly gross. If you are squeamish, I don't think this book will be for you. Nonetheless it is a fantastic horror story.
The voice of our narrator, Will Henry, is perfect for this story. His character is crafted so well and I have a clear picture of him and the entire setting of New Jerusalem. Will Henry has supposedly written this journal as an old man recounting the horrors of his youth. I think Yancey did a great job of telling the story through the eyes of a twelve year old and with the maturity of an elderly man. At times the wordiness of the writing style slowed the pace down and I had to resist the urge to skim past some sections of text. Overall though, this book is a roller coaster ride. The twists really kept me engaged and it was hard to put this book down.
Personally, I don't think Dr. Warthrop is as endearing as Holmes. While I can compare them easily and I think Warthrop is based on Holmes, he lacks a lot of the empathy and understanding Holmes displays. He is a cruel master to his young charge at times and his ego certainly made him hard to like. He and Will Henry have a love/hate relationship even though they depend on one another in many ways. I am very interested to see how this dynamic develops as Will Henry gets older and the story continues.
The mystery within this story is secrets inside secrets and there was no point where I felt like I knew how it would turn out. It was fantastically planned and I loved the twists Yancey created. These combined with the horror elements created a fantastic atmosphere for this book and I was totally absorbed in the story.
I've already started reading book two and I imagine these books will be my main source of sleepless nights for the rest of the fall.
Quick Thoughts:
If you like horror, check this book out. It is gory and captivating enough for adults even though our narrator is young. The characters are fantastic, the plot is twisted and thrilling and the monsters are terrifying. Check out this series for a good scare!
Happy Reading!