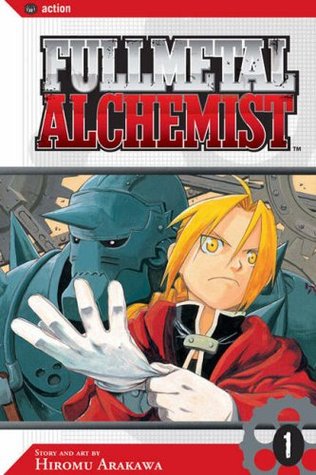 Series: Fullmetal Alchemist Series (27 Vols.)
Genre: Steampunk/Fantasy Manga
Source: Library
Published: VIZ Media 2005-2010
Paperback - avg 180pgs
Rating: 5/5 (overall)
Add it // Buy it
How do I do this? This manga series is twenty-seven volumes of intense action sequences, moral questions and emotional trauma. What was I thinking when I sat down to try and review this entire series in one post!?
I was thinking this series is AMAZING!!
Honestly, this is one of the best stories I've ever read. With almost thirty volumes ahead of me, I was worried this would be an unwieldy manga series and thought it would be difficult to follow. Instead I found a well-organized series I could read with ease and one that really drew me into the story. I was seriously impressed with the complexity and completeness of the graphic novel storyline. While I expected the story to be good, I didn't foresee a series that would capture my attention so intensely. The librarians probably thought I was too obsessed since I ended up returning and borrowing volumes every few days.
My favorite part of this story is the characters. There is a large cast of complex characters unlike anything I've read in a manga series before. The problems the characters faced within this story were captivating but without the intricate backstories and grey area so many of the characters possessed, it wouldn't have impressed me as much. The story of Edward and Alphonso is only the tip of the iceberg in this series. There are so many other storylines in this world to follow and explore. I never felt like the format took away from the story. Unlike some graphic novel/manga series, this story was complete and I did not wish for more text.
There are some deep moral issues and tough questions posed throughout this series. It really made me think. While this is a fantasy world filled with magic and steampunk elements, it really tackles some deeper questions. Even though so many problems were solved with alchemy, even more problems were created because of it. The world would have been seriously lacking if Arakawa did not bring up some of these questions and her great world building with both art and text was phenomenal. Obviously I am raving, but it is easy to do when a story blows you away so completely.
As is to be expected, there are a few times when the translation gets confusing. This series was originally published in Japanese and sometimes you could tell. Overall though the real questions and plot lines translate perfectly. I laughed a lot and cried quite a few times as well. I can't wait to watch the television adaptation of this series and feel all the feels all over again. Though I do hear it is quite different than this series.
Happy Reading!