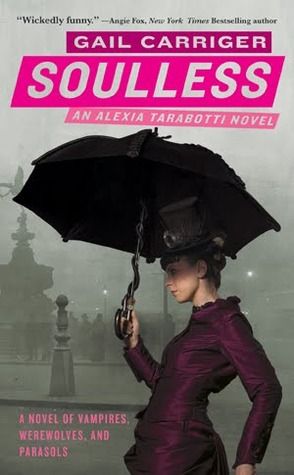 Series: Parasol Protectorate #1
Genre: Paranormal Historical Fiction
Alexia Tarabotti is laboring under a great many social tribulations.
First, she has no soul. Second, she's a spinster whose father is both Italian and dead. Third, she was rudely attacked by a vampire, breaking all standards of social etiquette.
Where to go from there? From bad to worse apparently, for Alexia accidentally kills the vampire--and then the appalling Lord Maccon (loud, messy, gorgeous, and werewolf) is sent by Queen Victoria to investigate.
With unexpected vampires appearing and expected vampires disappearing, everyone seems to believe Alexia responsible. Can she figure out what is actually happening to London's high society? Will her soulless ability to negate supernatural powers prove useful or just plain embarrassing? Finally, who is the real enemy, and do they have treacle tart?
Quick Thoughts: Go Read This! Thus far this series is an absolute treat! My reading slump fell pitifully to the side to make way for this snarky and hilarious paranormal series set in Victorian, London. Over the past few years I have developed a weakness for anything set in the Victorian Era and this one took the cake!
There are few settings I love more than Victorian London. Often when fantastical books are set in this time they combine my favorite elements of books: Magic, steampunk inventions and Victorian sensibilities. This book is no exception.
The entire plot line is ridiculous amounts of quick paced fun and hilarity. Alexia finds herself in ridiculous situations which made me laugh out loud at times. The plot is a bit predictable but it won me over anyway. The quick witted poke fun at the slow witted and everyone has a good time.
From the very first pages I found these characters irresistible. Alexia is witty and has some modern ideas but she is still a proper Victorian lady. I loved how Carriger created a strong lady of her time rather than a lady out of time. I was submerged deeper into the story and the world because Alexia was written so well. Carriger also created a seamless combination of the supernatural and Victorian manners.
In short, this book is a barrel of fun and I already have book two so I'll be continuing on this adventure soon.
Happy Reading!