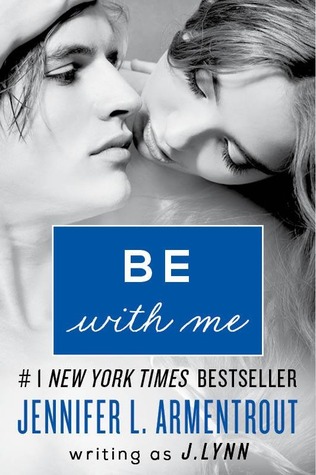 Today I'm combining a few reviews from my recent reads. While I have been reading a lot of good books recently, I don't have a lot of thoughts to share. Today though I wanted to share my general thoughts about the books I've finished. I have several to share with you and like I said a lot of these were amazing.
Be With Me by J. Lynn
Series: Wait for You (Companion)
Genre: Contemporary
Age Group: Young Adult
Published: February 2014
Kindle Ebook - 365 pgs
Rating: 3/5
Teresa Hamilton is having a rough year—she's in love with her big brother's best friend, but he hasn't spoken to her since they shared a truly amazing, mind-blowing, change-your-life kiss. She got out of a terrible relationship. And now an injury is threatening to end her dance career for good. It's time for Plan B – college. And maybe a chance to convince Jase that what they have together is real.
Jase Winstead has a huge secret that he's not telling anyone. Especially not his best friend's incredibly beautiful sister. Even though he and Teresa shared the hottest kiss of his life, he knows that his responsibilities must take priority. He certainly doesn't have time for a relationship. But it doesn't help that all he can think about kissing the one girl who could ruin everything for him.
As they're thrown together more and more, Jase and Tess can't keep denying their feelings for each other. But a familiar danger looms and tragedy strikes. As the campus recovers, the star-crossed couple must decide what they're willing to risk to be together, and what they're willing to lose if they're not

Review:
Armentrout's books are an easy grab for me when I'm feeling out of sorts with my reading. It is almost a sure bet I'll like them, and they are easy to fly through. While the characters and stories fall into familiar tropes, Armentrout usually finds a way to surprise me. This story is a perfect example. It was fun to meet new characters while still getting glimpses of Cam and Aubrey from Wait for You. I enjoyed this romance, but the story was predictable and a tad repetitive. Still, I will continue on with this companion series.
Lady Susan / The Watsons by Jane Austen
Series: Both Standalones
Genre: Classics
Age Group: Everyone
Ratings:
Lady Susan - 3/5
The Watsons: 3/5
Lady Susan:
Lady Susan is a selfish, attractive woman, who tries to trap the best possible husband while maintaining a relationship with a married man. She subverts all the standards of the romantic novel: she has an active role, she's not only beautiful but intelligent and witty, and her suitors are significantly younger than she is. Although the ending includes a traditional reward for morality, Lady Susan herself is treated much more mildly than the adulteress in Mansfield Park, from Jane Austen's novel Sense and Sensibility, who is severely punished.
The Watsons:
Left impoverished upon the death of her aunt, Emma Watson has no option but to be reunited with her estranged father and siblings. Initially delighted with her new life—including the fashionable society balls to which she now has access—Emma soon realizes that her family harbors many ill feelings, not least those springing from the sisters' hopes—and disappointments—in snaring a husband. So when the eligible and suitably rich Tom Musgrove begins to transfer his affections from her sister Margaret to Emma, the result can only be further sibling rivalry and unrest.
My Thoughts:
Overall I enjoyed both of these books, but they are not quite up to what I was expecting. Since I've already read all of Austen's full-length published works, these seemed simple compared to those. You can tell her witty writing style is there in the themes of the stories, but it is still developing. Lady Susan was a hilarious, but frustrating read because Lady Susan herself isn't likable while the other characters are. The Watsons was also good, but as mentioned in many notes about the text, it wasn't completed so we are left to wonder what it could have been. The Watsons especially had elements from many of her other stories and reminded me of Northanger Abbey in many ways.
Poison or Protect by Gail Carriger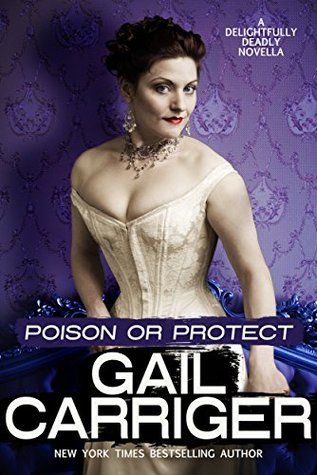 Series: Delightfully Deadly #1
Genre: Sci-Fi Historical Paranormal Romance
Age Group: Adult (Mature Themes)
Published: June 2016
Kindle Ebook - 147 pgs
Rating: 5/5
Description:
Lady Preshea Villentia, the Mourning Star, has four dead husbands and a nasty reputation. Fortunately, she looks fabulous in black. What society doesn't know is that all her husbands were marked for death by Preshea's employer. And Preshea has one final assignment.
It was supposed to be easy, a house party with minimal bloodshed. Preshea hadn't anticipated Captain Gavin Ruthven – massive, Scottish, quietly irresistible, and… working for the enemy. In a battle of wits, Preshea may risk her own heart – a terrifying prospect, as she never knew she had one.
Buy Poison or Protect today to find out whether it's heartbreak or haggis at this high tea.
Warning: Contains men pleasing women, and ladies who know what they want and ask for it, sometimes in detail. May also contain plaid, appearances from favorite characters, and the strategic application of leather gloves.
Review:
A few months ago I had never read a Gail Carriger book. Now, I'm preordering novellas the moment I know they exist. I'm obsessed with her witty writing and amusing characters. This story is a bit more mature, but I still really enjoyed it. There is a Scotsman who is sexy as hell and an assassin, apparently an all grown up member of the Finishing School Series, who has feminine wiles of her own to use. This was so fun. It was well developed and complete. It is definitely an adult novel, but I also definitely recommend it if you are of age and are interested in adult romance. The story left me satisfied and excited to explore more of the Carriger works.
Happy Reading!