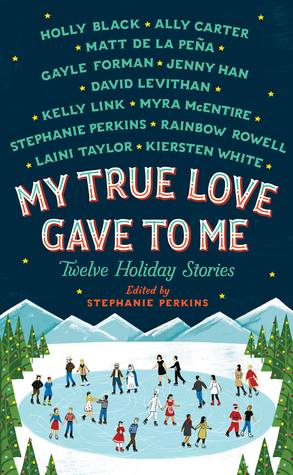 Series: Standalone Collection
Published: Macmillan (October 2014)
A collection of joyful festive stories that will keep you warm during the cold winter months. Includes stories by Stephanie Perkins, Holly Black, Ally Carter, Matt de la Pena, Gayle Forman, Jenny Han, David Levithan and Kelly Link.
This year has been the year of story collections for me. I have read quite a few of them this year and My True Love Gave to Me might top the list. It is at least tied with The Curiosities. This set of twelve stories was raved about last year and I think it deserved all that praise. There is something for everyone in this collection if you enjoy cute contemporary romance stories. Some stories are very holiday related while others just happen around the holidays. Personally I loved Midnights, The Lady and the Fox (fantastic!), It's a Yuletide Miracle, Charlie Brown (OMG this one!!), and The Girl Who Woke the Dreamer.
Like all collections these stories really stood out to me while others weren't for me. Overall though all the stories gave me the warm fuzzies and made me really happy. This book came along at the right time for me. I needed some feel-good stories because of some stuff going on in my personal life. This book gave me a boost right around the holidays and I really enjoyed it. I highly recommend this book especially around the holidays!