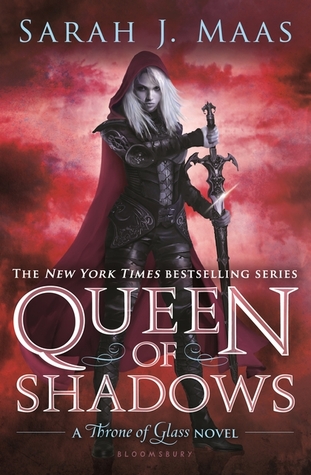 Series: Throne of Glass #4
Genre: Fantasy
Source: Published
Published: September 2015
Hardcover - 648pgs
Add it// But it
Rating: 4/5
The queen has returned.
Everyone Celaena Sardothien loves has been taken from her. But she's at last returned to the empire—for vengeance, to rescue her once-glorious kingdom, and to confront the shadows of her past…
She has embraced her identity as Aelin Galathynius, Queen of Terrasen. But before she can reclaim her throne, she must fight.
She will fight for her cousin, a warrior prepared to die for her. She will fight for her friend, a young man trapped in an unspeakable prison. And she will fight for her people, enslaved to a brutal king and awaiting their lost queen's triumphant return.
Quick Thoughts:
This book was a roller coaster for me. Not only emotionally (maybe especially emotionally) but also my reading experience. I struggled at the beginning of this installment. Maybe this was because of a impending reading slump, but I think mostly because the characterization was off which kept distracting me from the events in the story. After about 150 pages this issue was less noticeable and the rest of the book was fantastic.
Queen of Shadows was the perfect follow up to Heir of Fire. While I liked Heir of Fire, we did not make a lot of progress in the story. There was a lot of character development, which was necessary, but the plot stalled for the most part in that book.
This story in contrast explodes from the beginning with action, adventure and new information. Characters reappear and new revelations drive the plot forward. The female characters in this series are phenomenal! I love them and their relationships with one another. These relationships have only improved as the series goes on. Maas fleshed out several characters that felt flat and underdeveloped earlier in the series but especially Lyssandra and Manon. Their character development was out of this world during this book and I savored every second of it. At first I was unimpressed by Manon but I am almost as interested in what happens to her as Aelin. Her whole life could be another series in my opinion. No one is really a side character in this series. Everyone has a backstory, a life and a story to be told. I love how they all feel important and necessary.
On the other hand we had a couple of instances at the beginning of this book where the characterization was out of whack. Chaol especially lot a lot of ground at the beginning of the story. I understand there is a certain amount of tension between him and Alein because they have differences of opinion, they are a former couple, and mistakes have been made on both sides. However, Chaol's character went backwards for a period which frustrated me a lot. His behavior also made me mad at Aelin for a while to because their interactions never seemed to be in character. There was a lot of frustration all the way around for me during their interactions! (Thank goodness I reread books 1-3 and don't ship them anymore)
Speaking of ships. I am behind all the ships at this point. Even the ones that may be controversial to some, I am excited for and ready to see how they work out.
Lastly I want to compliment Maas' writing in this series. After rereading the first three books and finishing this one, I can see how much planning went into this series. It is incredible to see how well she knows the world and what a deep knowledge of its history she has dreamed up. I love authors that know the history of their world long before any of the characters they write have been born.
The events in this story had me on the edge of my seat and holding my breath. There were moments when I had to let out great sobs because the emotions overwhelmed me. I am so excited for Empire of Storms. I love these characters and cannot wait to see what happens in the next installment, but I am also terribly afraid it will hurt me.
Happy Reading!