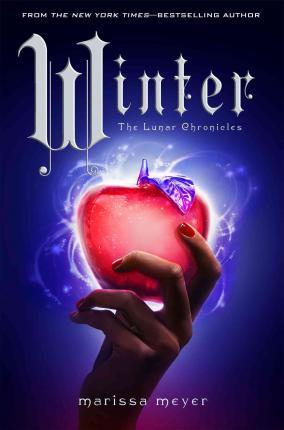 Series: The Lunar Chronicles #4 (Final)
Genre: Sci-Fi Fairytale Retelling
Published - November 2015
Hardcover - 824 pgs
Princess Winter is admired by the Lunar people for her grace and kindness, and despite the scars that mar her face, her beauty is said to be even more breathtaking than that of her stepmother, Queen Levana.
Winter despises her stepmother, and knows Levana won't approve of her feelings for her childhood friend—the handsome palace guard, Jacin. But Winter isn't as weak as Levana believes her to be and she's been undermining her stepmother's wishes for years. Together with the cyborg mechanic, Cinder, and her allies, Winter might even have the power to launch a revolution and win a war that's been raging for far too long.
Can Cinder, Scarlet, Cress, and Winter defeat Levana and find their happily ever afters?
Quick Thoughts:
Overall the ending to this series was very good and I was pleased with the wrap up to the story. A lot of questions were answered and the action sequences in this book were awesome. However, I did have a few questions left over at the end and didn't love it quite as much as everyone else.
Full Review:
Alright. This book took me almost a month to rate or even review. I had many mixed feelings about this book after finishing it and I still feel like I'm sorting through them. I wanted to love the wrap up to this series after seeing so many glowing reviews online, but I got stuck. There were a lot of things I liked. For instance, the action and adventure in this series has always sucked me in. I feel like I can really visualize what is going on and Meyer has always given me a complete picture of this futuristic world. I ship all the ship especially the friendships and felt very satisfied with the conclusion of this story. However, I did have a few problems.
The fairytale interpretations throughout this series have been innovative and this installment is spot on as well. I love the elements of the Snow White fairytale we saw and the futuristic twist to the classic story too. However, there were a few points where scenes felt forced into the story to accommodate more parts of the fairytale. In some ways this story has become completely independent of the original stories so I found it a bit disruptive to be reminded this was a retelling. However, I felt very similarly at the end of Cinder and upon reread found it worked better for me.
My other issue with this book was the main couple. I had a really hard time with Jacin and Winter at first. There was so much character development and progress in Cress. I was already in the middle of so many stories and character arcs I had a hard time starting two new ones. Eventually I did like both of them and found their stories interesting. Plus Winter and Scarlet's friendship was a really interesting dynamic. I love Scarlet so as she and Winter spent more time together, I warmed up to Winter.
Like I mentioned though, the wrap up was well done. I liked the ending and how fast-paced and thrilling the conclusion was. There is a lot of drama and excitement in this wrap up. It is a long book so be prepared for emotional upheaval and lots of action. I was pleased about a lot of the decisions Meyer made for her characters and how the story panned out. I was satisfied with the conclusion of the story.