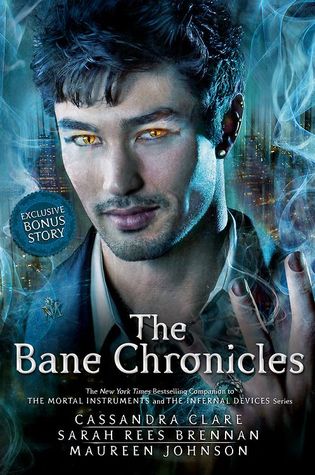 Series: The Bane Chronicles #1-11
Genre: Paranormal
Source: Purchased
Published: McElderry Books (2014)
Hardcover - 528 pgs
Rating: 4/5
Fans of The Mortal Instruments and The Infernal Devices can get to know warlock Magnus Bane like never before in this collection of New York Times bestselling tales, in print for the first time with an exclusive new story and illustrated material.

This collection of eleven short stories illuminates the life of the enigmatic Magnus Bane, whose alluring personality, flamboyant style, and sharp wit populate the pages of the #1 New York Times bestselling series, The Mortal Instruments and The Infernal Devices.

Originally released one-by-one as e-only short stories by Cassandra Clare, Maureen Johnson, and Sarah Rees Brennan, this compilation presents all ten together in print for the first time and includes a never-before-seen eleventh tale, as well as new illustrated material.
After reading this collectio
n of stories, I would say this is an essential for any Shadowhunter Chronicles fan. The collection is a ton of fun to read. As I wait for Lady Midnight anxiously, I was happy to slip back in the Shadownhunter world for a short time. This is also really interesting because we finally read from a non-Shadownhunter point of view and get an entirely different view on the world and some of our favorite characters.
Once again Clare's writing submerges me in her world and I ship everyone! (She makes it easy too!) I loved following Magnus through the years and watching his character change and stay the same. These are a great set of stories that are a mix of feels both good and sad. While Magnus's humor shines through during all the stories, some of them are more serious than others. Clare and the other authors addresses problems in her world I had questions about when I read the series. I liked the way the other contributors to this collection fit their stories into Clare's world so seamlessly as well.
Personally, I enjoyed reading all the stories together. I did space them out a little bit and read one each day. It's a large book so this worked rather well for me. Basically, if you love Cassandra Clare's other books, I expect you'll like this collection.
Happy Reading!